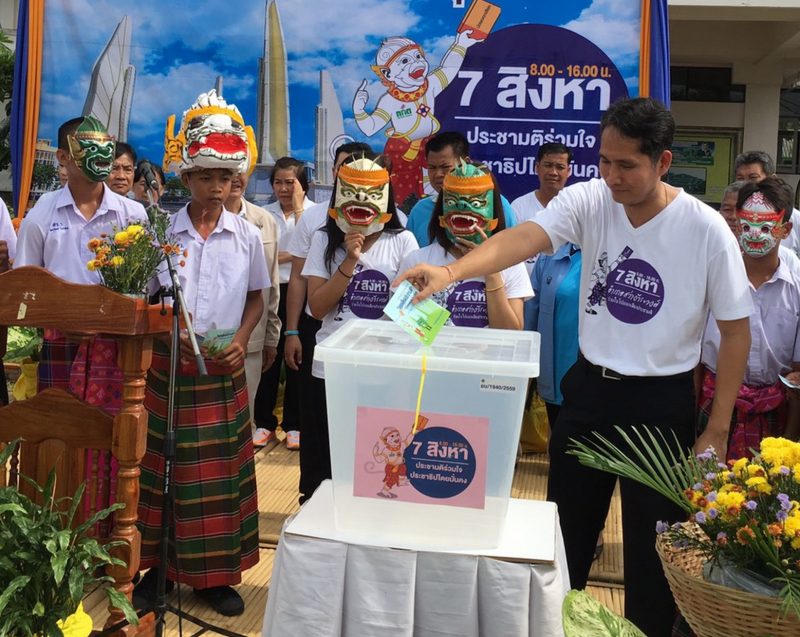 CHIANG MAI — After spending nine days in jail because he couldn't afford the bond money, a 63-year-old man charged with violating the referendum law walked free last night, thanks to a crowdfunding effort to raise bail.
Samart Kwanchai was released from Chiang Mai Central Prison on Tuesday night, a human rights activist said. He's still facing a trial for handing out leaflets urging people to reject the new constitution that will be put to vote on Sunday.
Elderly 'Vote No' Campaigner Jailed Because He Couldn't Afford Bond
"The case is still in the investigation process. Police are still working on the case file," said Noppon Archamas, a member of the Thai Lawyer for Human Rights, a group that assists legal cases that involve freedom of expression.
Noppon said the 100,000 baht bond money was collected in an online donation drive by the anti-junta group Resistant Citizen.
Samart was accused of placing Vote No flyers on vehicles in a Chiang Mai carpark on July 21.
"Down to Dictatorship! Long Live Democracy! Vote No on Aug. 7," was written in the leaflets along with an image of the three-finger salute, an anti-junta gesture many activists adopted from the Hunger Games films.
Police later arrested him and charged him with violating the referendum law, which bans any attempt to "mislead" the public into voting in favor or against the constitution. Samart was jailed July 25 after telling the court that he couldn't afford the 100,000 baht bond.
If found guilty, he faces up to 10 years in prison.