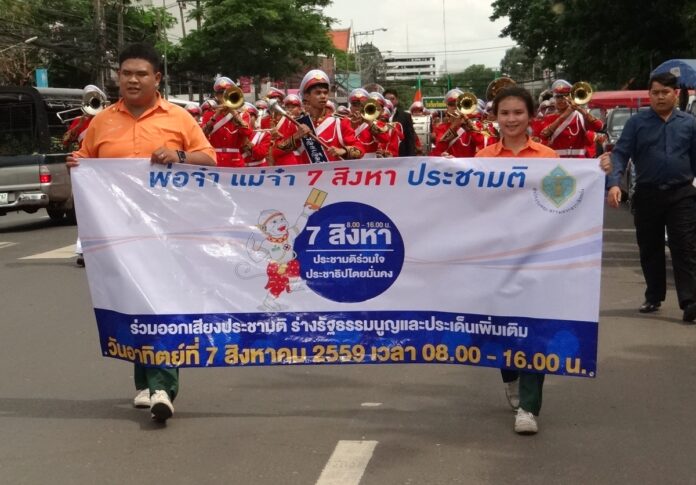 CHIANG MAI — A 63-year-old man remained imprisoned Friday, four days after he was locked up for handing out leaflets that urged people to reject the pro-junta constitution in the Aug. 7 referendum.
In what has become a draconian, daily suppression of any dissent in the run-up to the vote to be held in nine days, comes the jailing of Samart Kwanchai, who will stand trial for violating the referendum law, which virtually outlaws any campaign for or against the draft charter.
A member of Thai Lawyers for Human Rights, an advocacy group that tracks civil rights cases under the military regime, said the court set a bond for Samart at 100,000 baht, which he could not pay.
"He has no money for the bail," said one of its attorneys, Kumklao Songsomboon.
Samart, who's said to have joined Redshirt protests in the past, was accused of placing Vote No flyers on vehicles in the carpark at Pantip Plaza Chiang Mai on July 21.
"Down to Dictatorship! Long Live Democracy! Vote No on Aug. 7," was written in the leaflets along with an image of the three-finger salute, an anti-junta gesture many activists adopted from the Hunger Games films.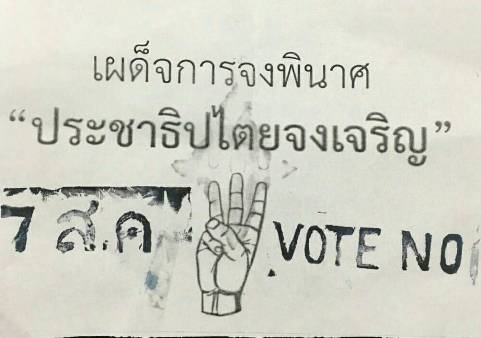 Police arrested Samart on July 23 at his home, where a 400 more flyers were found. He was charged with violating the Referendum Act, which bans any action that "uses rude language" or "misleads people" into voting for or against the charter. It carries a maximum penalty of 10 years in jail.
The military government has made the case that its charter, though unpopular, is necessary to safeguard Thailand from its endemic culture of corrupt politicians.
When police took him for a custody hearing on Monday, his bail was set at 100,000 baht, and Samart. Unable to pay it, he was sent to the Chiang Mai Central Prison to await trial.
Kumklao said the court is required by law to set a bond commensurate with the penalty prescribed by the alleged offense, which in Samart's case led to the disproportionately high bail.
"Because the text of the [referendum] law has a punishment so disproportionate to the action that's considered wrongdoing, it affected the bond hearing," she said.
Samart is one of many people charged for voicing their opinion about the constitution the junta wants the public to accept.
Because of these arrests and the harsh law that governs the referendum campaign, many critics of the military regime say they will not regard the Aug. 7 vote as free or fair.
Related stories:
iLaw Sues to Get 'One-Sided' Referendum Show Taken Off Air
Soldiers Arrest Activists For Handing Out Referendum Leaflets (Video)
Reporter Arrested While Reporting on Referendum in Ratchaburi
Redshirt TV Station Expects to Be Ordered Off Air Until After Referendum