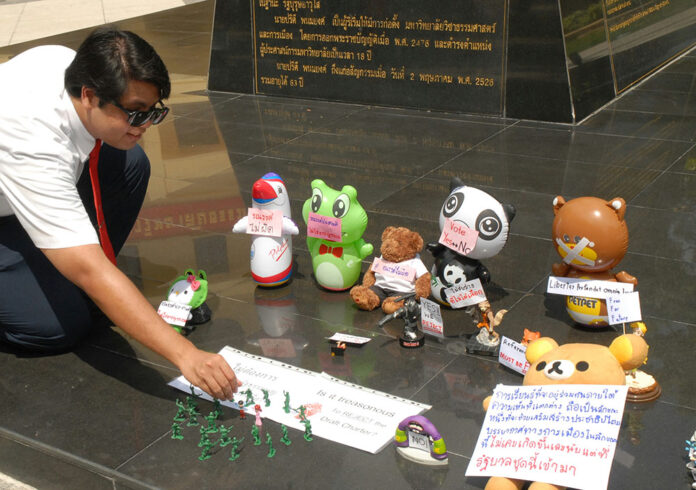 BANGKOK — With five weeks to go before the scheduled charter referendum, more international groups have expressed concern about the lack of free expression to campaign for or against the junta-sponsored charter draft.
A group of Southeast Asian parliamentarians Thursday expressed disappointment at yesterday's ruling by the Constitutional Court to uphold clause 2 of Article 61 of the Referendum Act, which outlawed attempts to influence voters. In Hong Kong, a regional rights advocacy group called the Asian Human Rights Commission on Thursday demanded charges be dropped against 13 activists recently arrested distributing flyers urging people to reject the proposed constitution.
Read: What Does the Draft Constitution Actually Say? Read it Yourself, in English
The commission said people should write letters to both Thai authorities and the UN Special Rapporteur on the promotion and protection of free expression, seeking his urgent intervention.
Malaysian MP Charles Santiago, chairman of ASEAN Parliamentarians for Human Rights, called the Constitutional Court's ruling "another disappointing setback for freedom of expression in Thailand."
"The decision by the Constitutional Court to uphold this overly broad statute, which has already been used to arrest and intimidate activists and stifle criticism, marks yet another disappointing setback for freedom of expression in Thailand," Santiago said.
While the law may not violate the laws imposed by the generals who staged the coup, Santiago said, it "unquestionably" violates rights guaranteed under international law.
"It is distressing to watch as the Thai government becomes increasingly hostile to free expression, and continues to undermine the creation of an environment conducive to a free and fair referendum vote," he said.
The military regime has promised to restore full democracy to Thailand after it achieves a series of reforms intended to immunize the political system from corruption. In the charter, it's appointed drafters added various measures weakening direct representation.
The parliamentarians also voiced concern over the June 23 arrests of 13 activists in Samut Prakan province, with seven still in Bangkok Remand prison for violating both the referendum law and ban on political gatherings. The seven members of New Democracy Movement still in prison have refused bail as a symbolic protest against the junta's legitimacy.
"These arrests underline the absurdity of the rules surrounding the upcoming referendum," Santiago said. "These individuals were trying to promote responsible civic engagement, working to inform the public about the draft constitution and their legitimate concerns about its content. For them to be arrested and detained for such behavior is not only a violation of their fundamental rights; it's utterly nonsensical. Ultimately, it just underscores the junta's apparent desire to shut down all debate and force feed this charter into Thai people."
Related stories:
Referendum Law Upheld as Prayuth Unveils 'Plan B'
Prison Conditions Being Made 'Unbearable' Jailed Activist Says