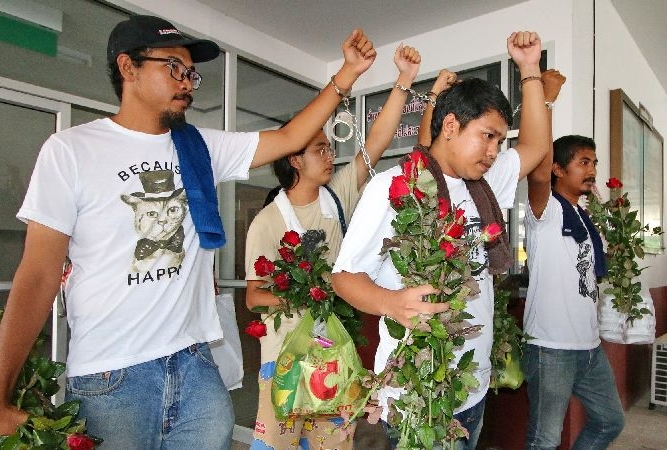 RATCHABURI — A court Monday cleared four activists and a reporter of violating a special elections law in 2016 for allegedly participating in a campaign against it.
In its Monday decision, a provincial court ruled that while the defendants did distribute stickers printed with messages discouraging voters from supporting the junta-backed charter, the messages did not violate any laws.
The stickers were printed with messages such as "Vote No!" and "a future that we do not choose."
The five, who were arrested in Ratchaburi province in July 2016, were found guilty of refusing to give fingerprints at the time of their arrest, according to Thai Lawyers for Human Rights, which represented them in court. They were each fined 500 baht, the group said in a statement.
The five include activists Pakorn Areekul, Anucha Rungmorakot, Panuwat Songsawatchai and Anan Loked, and Prachatai reporter Taweesak Kerdpoka.
They were arrested after police stopped and searched the pickup truck they were traveling in. Taweesak was charged despite his protest that he was not campaigning but only traveling with the activists for a story.
They were accused of breaking a special law put in place that banned any attempt to "mislead" the public into voting one way or another in the run-up to the August 2016 referendum.
The referendum was passed by a wide margin of votes before being modified by King Rama X upon his accession to the throne and becoming the law of the land.
Related stories: