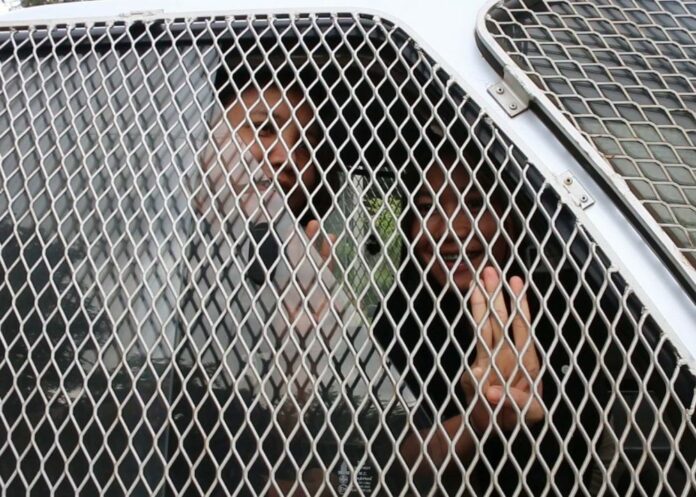 BANGKOK — The ability of human rights lawyers to protect the public will be further hampered as two go on trial by a military tribunal for allegedly engaging in politics, a civil rights lawyer said Wednesday.
Duangtjip Karnrit and Niranut Niamsap, who work for Thai Lawyers for Human Rights, were among seven people indicted Tuesday by a military court in Khon Kaen province for allegedly organizing a panel discussion the military said could disrupt peace and order. They were bailed out the same day.
But the trial – which could go on for years – will prevent Duangthip and Niranut from fully doing their jobs, according to Thai Lawyers chairwoman Yaowalak Anuphan.
"Instead of working 100 percent to help other people, they must take care of their own cases," Yaowalak said in an interview. "And the military court is very slow. They arrange a hearing every three or four months. And the officers like to cancel. So people must travel there again and again."
Eight people were charged with violating the junta's ban on political activities for organizing a July 2016 panel discussion at Khon Kaen University on what was then a draft of the constitution the junta wanted the public to support.
While six others were activists, Duangthip and Niranut were attending the event as legal observers. The case has raised concern from the likes of Amnesty International that rights watchdogs are being targeted by the same tactics the junta uses against its critics.
"The two TLHR staff did not directly participate in the event, but rather attended as observers. They wore badges displaying their affiliation with TLHR and informed senior police and military officials present at the event that they were attending in an observational capacity," an Amnesty statement said. It urged the authorities to drop charges against the suspects.
Duangthip, Niranut and five other defendants were present in court for Tuesday's indictments. They all denied the charges. An eighth suspect, Jatupat "Pai" Boonpattararaksa, is currently serving a prison term after recently confessing to royal defamation.
Yaowalak said she fears the trial will take a long time because military tribunals move slower than civilian courts. Cases frequently drag on for years. The trial of two defendants in the largest terror attack in Thailand's modern history – the 2015 bombing of Bangkok's Erawan Shrine – has seen only four witnesses testify in court after more than two years.
"That's why people who do not get bail choose to just plead guilty. It's not like the Court of Justice, where it only takes a year or two," the lawyer said, referring to the civil justice system.
The eight suspects were charged before the junta revoked the use of military courts for trying civilians in new cases said to involve national security, which includes everything from defaming the royal family to not following military orders.
There was also some confusion whether prominent activist Rangsiman Rome was supposed to be at yesterday's court session. While a Thairath report suggested Rangsiman defied a court summons and failed to appear, the activist himself said he wasn't charged in that case.
"I was sleeping. When I woke up, lot of people sent me the news, and I was shocked," Rangsiman said.
Someone answering the phone at Thairath who identified himself as being in charge of its website said the report was filed by a correspondent in Khon Kaen.