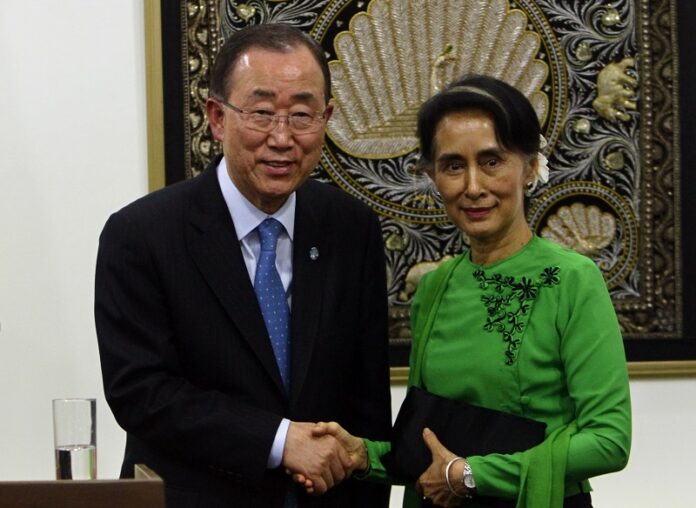 NAYPYITAW, Myanmar — Myanmar has a unique opportunity to end decades of ethnic rebellions in various parts of the country, leader Aung San Suu Kyi said Wednesday as she promised that her government will guarantee rebel groups equal rights and respect in historic peace talks.
Suu Kyi was speaking at the start of the five-day negotiations aimed at ending decades of separatist insurgencies that have claimed thousands of lives. The talks are being attended by representatives of 17 of the 20 major ethnic groups, including the Karen, Kachin, Shan and Wa, who make up 40 percent of the country's population.
"This is a unique opportunity for us to accomplish a great task that will stand as a landmark throughout our history," said Suu Kyi, whose official title is state counsellor although she is the real power in the government, above the president. "Let us grasp this magnificent opportunity with wisdom, courage and perseverance and create a future infused with light."
The peace talks are called Union Peace Conference — 21st Century Panglong, a reference to the Panglong Agreement brokered in 1947 by Suu Kyi's late father, independence hero Gen. Aung San, in the town of Panglong, when Myanmar was still ruled by Britain.
The deal granted ethnic minorities autonomy and the right to secede if they worked with the federal government to break away from Britain together. But Aung San was assassinated the following year and the deal fell apart. Since then, ethnic groups have accused successive, mostly military, governments of failing to honor the 1947 pact.
The first uprising — launched by ethnic Karen insurgents — began shortly after independence. Since then other ethnic groups have also taken up arms with roughly the same aim — to fight for autonomy while resisting "Burmanization," a push by the Burman ethnic majority to propagate its language, religion and culture in ethnic minority regions.
The rebel armies control a patchwork of remote territories rich in jade and timber that are located mostly in the north and east along the borders with China and Thailand.
Suu Kyi said her National League for Democracy party's aim has always been to hold political negotiations "based on the Panglong spirit and the principle of finding solutions through the guarantee of equal rights, mutual respect and mutual confidence between all ethnic nationalities."
"The government that emerged after the 2015 elections is determined to uphold the same principles," she said, referring to the landmark elections that brought the NLD to power after decades of military rule.
The previous military-backed government brokered individual truces with various insurgent groups and oversaw a cease-fire covering eight minor insurgencies last year that fell short of a nationwide deal.
Skirmishes, particularly in northern zones where Kachin insurgents are fighting the army, have displaced more than 100,000 civilians since 2011 alone. At least 100,000 more have sought refuge in squalid camps in neighboring Thailand, and are unlikely to return home until true peace takes hold.
U.N. Secretary General Ban Ki-moon and the head of armed forces Gen. Min Aung Hlaing are also attending the conference.
"All our people around the country want peace. So I do believe we will be successful in getting it at the conference," said Khun Than Myint, the facilitator of the meeting.
"It is still too early to say" whether this Panglong conference is representative of the aspirations of all groups, said Khu Oo Reh, the spokesman of the United Nationalities and Federal Council, a group that represents all ethnic armed groups. "But we really hope that we can achieve real democracy and equality for all ethnic groups, and self-determination in our region."
Story : Esther Htusan