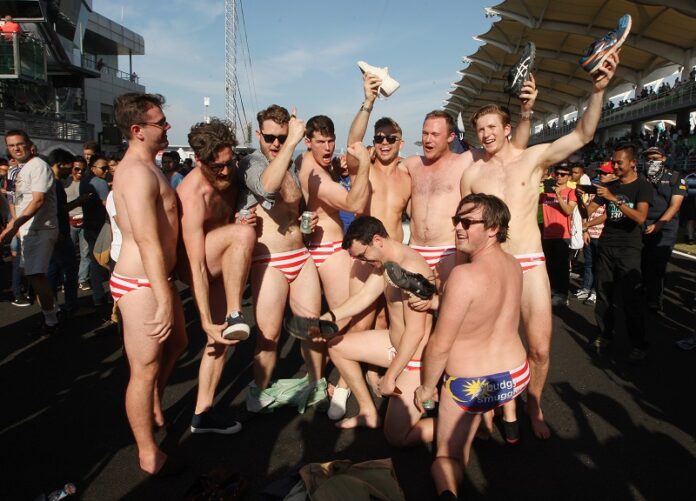 KUALA LUMPUR — Nine Australians who stripped down to skimpy briefs and drank beer from shoes at the Malaysian Formula One Grand Prix appeared in a Malaysian court Thursday, where they are likely to be charged for public indecency.
The nine were detained Sunday after they partied in Budgy Smuggler-brand swimsuits decorated with the Malaysian flag in full view of thousands of spectators at the Sepang track after Australian driver Daniel Ricciardo won the race.
Police say the men were being investigated for intentionally causing insult with intent to provoke a breach of the peace and public indecency. They face up to two years in jail, a fine or both if they are found guilty.
The men, mostly Sydney University graduates, were dressed in suits when they appeared in court Thursday.
John Walker, the father of one of the men, Jack Walker, told reporters he was "hopeful" of their release. Jack Walker is an adviser to Australian Defense Industry Minister Chris Pyne.
Australian Department of Foreign Affairs and Trade First Assistant Secretary Jon Philp said he did not know what would happen in court today.
"Something could happen quickly, but it's entirely up to the magistrate and the legal authorities," Philp told Nine Network television.
"We'd like to think that they'll be home soon, but it's up to the Malaysian authorities to decide what to do now," he added.
The men could be charged or police could ask the magistrate for their detention to be extended while they continue their investigation.
Ricciardo, the driver whose success inspired the Australians' beer-fueled revelry, described the incident as "pretty harmless."
"I respect the laws of Malaysia, but beyond that I don't think they deserve any further punishment," Ricciardo told Sydney's The Daily Telegraph newspaper.
"In Australia, it's a bit different, but I'm very sure they didn't intend to offend anyone," he added.
The Australian media has dubbed the men the Budgie Nine, using a spelling variation of the abbreviated name of the budgerigar, a small Australian parrot. The name plays on nine Australians arrested in Indonesia for heroin trafficking in 2005 who became known as the Bali Nine.