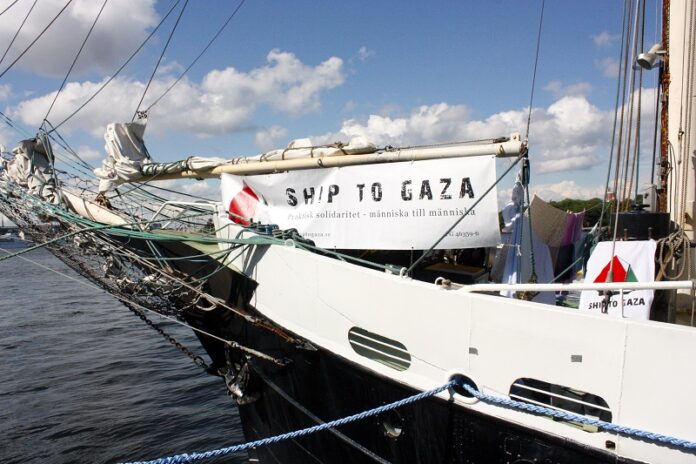 JERUSALEM — The Israeli navy on Wednesday intercepted a boat carrying pro-Palestinian female activists trying to break Israel's naval blockade of the Gaza Strip and said it was escorting the vessel ashore.
The Israeli military said the takeover was brief and there were no injuries – avoiding a repeat of violence seen during a 2010 takeover of an international flotilla in which 10 Turks were killed in clashes with Israeli troops.
The incident occurred on a day of renewed fighting in Gaza, where the Israeli air force struck a series of targets in response to a Palestinian rocket strike earlier in the day. There were no reports of injuries on either side.
The boat was sponsored by the Freedom Flotilla Coalition, a group of pro-Palestinian groups based mostly in Europe. The Dutch-flagged boat was carrying 13 female activists from different countries headed by Mairead Maguire, an Irish Nobel Peace Prize laureate. A retired U.S. colonel and former South African Olympic athlete were also on board, along with women from the United Kingdom, Sweden, Russia and Malaysia.
Zaher Darwish, one of the coordinators of the flotilla, said the boat was intercepted about 40 miles (60 kilometers) from Gaza and was not carrying any aid. He said the goal was "symbolic" – to call attention to the Israeli naval blockade of Gaza, which he called illegal.
"People have the right to move. We have the right to move," Darwish said. "We are aiming to the conscience of the people. And the conscience of governments. They have to act and express their non-acceptance of this situation."
Israel and Egypt imposed a blockade on Gaza after the Hamas militant group seized power in 2007. The blockade has stifled Gaza's already weak economy, where unemployment is over 40 percent, and prevented tens of thousands of people from traveling abroad for jobs, studies and other visits overseas.
Israel says the restrictions are needed to prevent Hamas from importing weapons, and says it has eased the blockade to allow more goods into the territory. It considers Hamas, an armed group sworn to Israel's destruction, a terrorist group, and the sides have fought three wars since the Hamas takeover.
In a statement Wednesday, the Israeli military said the navy carried out the raid "after exhausting all diplomatic channels." It said forces ordered the boat to change course, and when it refused, they boarded and searched it. The military said male and female soldiers participated in the raid, and that the search was "uneventful."
The boat was being escorted to the Israeli port of Ashdod, the military said, a process that was expected to take several hours. There was no word on what would happen to the people on board. In the past, activists have been arrested and quickly deported.
The raid sharply contrasted with the 2010 takeover, in which Israeli naval forces were confronted by crowds of activists armed with pipes and knives as they boarded a Turkish ship. Ten Turkish activists, one of them a dual American citizen, were killed during violent clashes.
The incident contributed to six years of diplomatic tensions with Turkey that were resolved only this year in a deal that included an Israeli apology and reparations, Turkish pledges to limit Hamas activity on its territory and a restoration of full diplomatic relations.
Wednesday's rocket strike landed in Sderot, a southern Israeli town on the Gaza border. Although no one was wounded, such incidents have been rare since a 50-day war between Israel and Hamas in the summer of 2014.
Israel struck a series of Hamas posts throughout Gaza in response, sending tall plumes of smoke into the air. An obscure group that said it draws inspiration from the Islamic State group claimed responsibility. Israel, however, holds Hamas responsible for all attacks emanating from the territory.
Hamas spokesman Fawzi Barhoum urged international activists to continue sending flotillas to Gaza.
"This is an Israeli piracy and organized state terrorism reflecting how deep the Israeli entity has gone in its aggression, crimes and violations against our people and those who show solidarity with it," he said.
Story: Joseph Federman