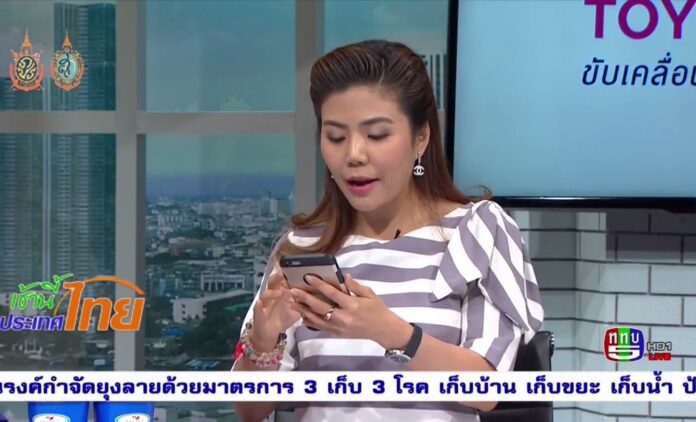 BANGKOK — A female TV reporter linked to junta deputy chairman Prawit Wongsuwan didn't accompany him on a now-controversial trip to Hawaii, according to information obtained by Khaosod English.
Entry records from the Immigration Bureau show that Chonratsamee Ngathaweesuk did not leave the country between Sept. 29 and Saturday, when the trip occurred. Also footage of live broadcasts she hosted as a news anchor indicates she remained in Thailand.
Reporter Linked to Junta General Not on 20M Baht Flight: Govt
"She can't magically duplicate herself," Col. Thanathip Sawangsang, a producer for army-owned Channel 5 told reporters Wednesday.
In recent days, allegations Chonratsamee accompanied Prawit to a meeting with American military officials became a subplot in a greater controversy over the cost of ferrying the entourage there and back.
The single round-trip flight cost taxpayers 20.9 million baht, providing more fodder to junta critics who say it does not practice what it preaches when it comes to corruption.
Chonratsamee is said to be romantically involved with Prawit, and the possibility the deputy junta leader brought a girlfriend along for the trip particularly incensed critics.
An anti-junta Facebook page published what it said was a passenger list for the Honolulu-bound flight, which included Chonratsamee's name. Photos circulated online also alleged to show the reporter with Prawit in Honolulu.
Chonratsamee, who at 34 holds a rank of army major, may file libel charges against the Facebook pages and websites that spread the reports, according to Col. Thanathip, the producer.
In response to criticism of the expense, government officials have maintained the fare was a standard rate.
Related stories:
Govt Defends 21M Baht Flight to Hawaii