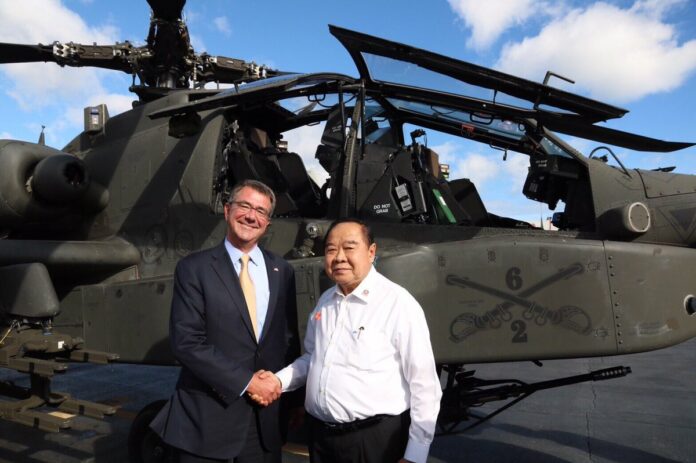 BANGKOK — The military government on Wednesday refused to disclose who accompanied the junta's No. 2 general on a 20.9 million baht trip to attend an informal discussion with American officials in Hawaii last week.
The regime also would not confirm or deny the authenticity of what's alleged to be a leaked passenger list of deputy junta chairman Prawit Wongsuwan's flight, which included a TV reporter rumored to be a romantic partner of the general. The reporter said she wasn't on the flight.
Govt Defends 21M Baht Flight to Hawaii
"If we disclose the list, what good will that do?" Maj. Gen. Kongcheep Tantravanich, spokesman for the Ministry of Defense, said Wednesday.
Prawit and his entourage visited Honolulu from Thursday to Friday for an event described as "ASEAN-US Defense Informal Meeting." It later emerged that air fare for the trip cost taxpayers 20.9 million baht, of which 600,000 baht was spent on in-flight dining alone.
Khaosod English filed a request Wednesday under the freedom of information law requesting the Defense Ministry disclose the names of the 38 people in Prawit's entourage. Kongcheep said the request was being deliberated by a committee and gave no timeframe for its response.
"Steps must be taken in accordance with protocols," said Maj. Gen. Kongcheep, who was on the flight. "Is it [disclosing the list] appropriate or not? If it affects national security or affects any agency, then we will not disclose it."
An anti-junta Facebook page called Stop Hypocrisy in Thailand on Wednesday night published what it said was full list of the passengers on the charter flight. It listed 40 people, including Gen. Prawit for the outbound flight, with three more officials joining the return trip.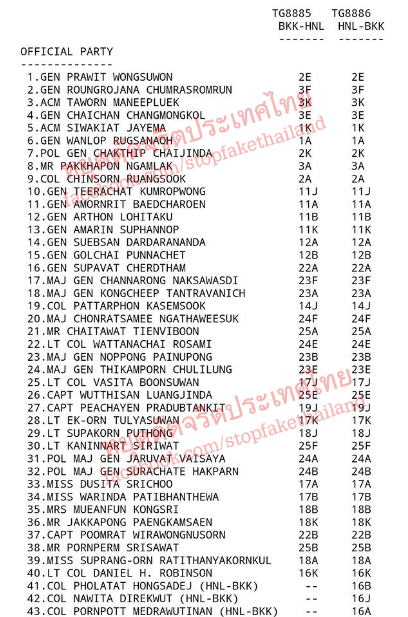 Among the purported list was Chonratsamee Ngathaweesuk, a reporter for the army-owned Channel 5 TV, who is rumored to be a romantic partner of Gen. Prawit, who is unmarried.
Kongcheep said he could not comment on whether the list was authentic, except for Chonratsamee. He said she was not one of the passengers.
General's Girlfriend?
Yet a photo circulating on social media also purported to show Chonratsamee in Honolulu with the delegation.
Prior to the appearance of the photos and list, Chonratsamee wrote Tuesday on Facebook that she didn't accompany Prawit to Hawaii. As proof, she posted a screenshot of a live news program she did on Friday, when the deputy junta chief was in Hawaii.
"This is funny! I was in Bangkok, reading live news on Channel 5, but people imagined that I was overseas," Chonratsamee wrote. "This means that the news I do live from Monday to Friday isn't famous enough."
She hasn't further commented on the matter publicly.
Nevertheless, the news revived the public's curiosity about the 34-year-old reporter, who also holds the rank of army major.
Isra News, an investigative news site, reported in December 2014 that a media company owned by Chonratsamee won at least 3.3 million baht worth of contracts with state agencies that year.
On Wednesday, Isra published a note saying it received an email from its internet service provider to remove the 2014 article, citing an unspecified "request of cooperation from the bureaucracy."
As of late Wednesday afternoon, the page was still on the site.
Note: The original image published with this article, which showed photos purporting to be of Chonratsamee Ngathaweesuk in Honolulu, were removed at the request of the management of Khaosod, which owns Khaosod English.
Aloha !

บิ๊กป้อม สวมเสื้อ ฮาวาย ท่ามกลาง รมว.กลาโหมAsean โดยมี พล.อ.ชัยชาญ ปลัดกห.และทูตพิศาล อยู่ด้วย ที่Hawaiihttps://t.co/mvQLyA6YBU pic.twitter.com/QBWUmDdwpo

— Deep Blue Sea (@WassanaNanuam) October 2, 2016