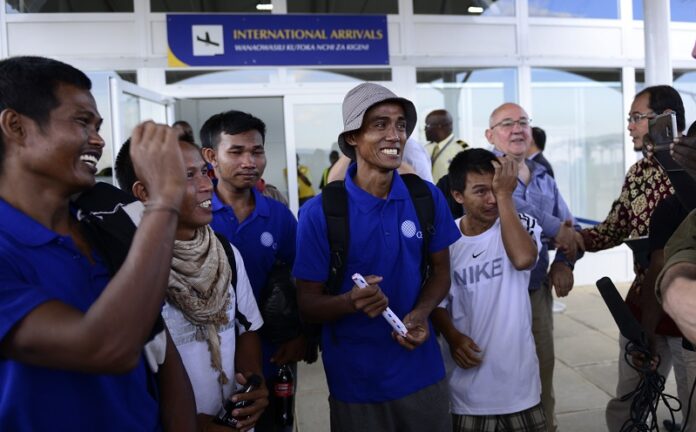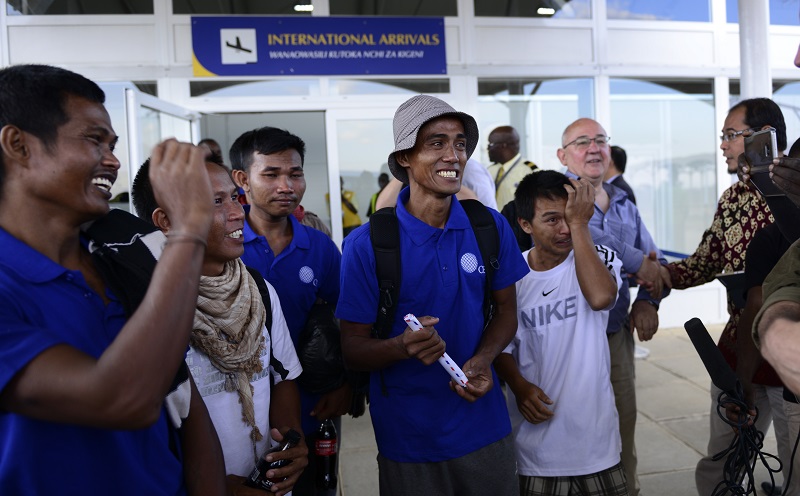 NAIROBI, Kenya — Following more than four years in captivity, 26 Asian sailors held hostage by Somali pirates have been rescued from their captors, China's Foreign Ministry confirmed Monday.
The sailors arrived in Nairobi, Kenya, on Sunday, and international mediators said the action the marks a turning point in the long-fought battle against Somali piracy.
The crew from Vietnam, Taiwan, Cambodia, Indonesia, China and the Philippines had been among the few hostages still in the hands of Somali pirates.
The sailors were the crew of the FV Naham 3, a Taiwan-owned fishing vessel seized in March 2012, said pirate representative Bile Hussein. The ship later sank.
Hussein said $1.5 million in ransom was paid for the sailors' release. That claim could not be independently verified.
Chinese Foreign Ministry spokeswoman Hua Chunying said in a statement Sunday night that 10 of the hostages were from the Chinese mainland and two were from self-governing Taiwan.
She said the 26 crew members were rescued Saturday "through various efforts." The Chinese government was grateful to "all the organizations and people who participated in the rescue," she said.
The 26 sailors will be repatriated to their home countries, John Steed, coordinator of the Hostage Support Partners for the U.S.-based organization Oceans Beyond Piracy, said in a statement.
"They are reported to be in reasonable condition, considering their ordeal. … They have spent over four and a half years in deplorable conditions away from their families," Steed said.
He said another member of the crew died in the hijacking and two died of illnesses in captivity.
Piracy off Somalia's coast was once a serious threat to the global shipping industry. Attacks have dropped off dramatically in recent years amid patrols by the navies of NATO counties, China and India.
No commercial vessel has been successfully attacked since 2012, but the threat of piracy remains, Steed said.
Most hostages held by Somali pirates have been sailors on merchant ships, although European families also have been kidnapped from their yachts while traveling in the dangerous waters.