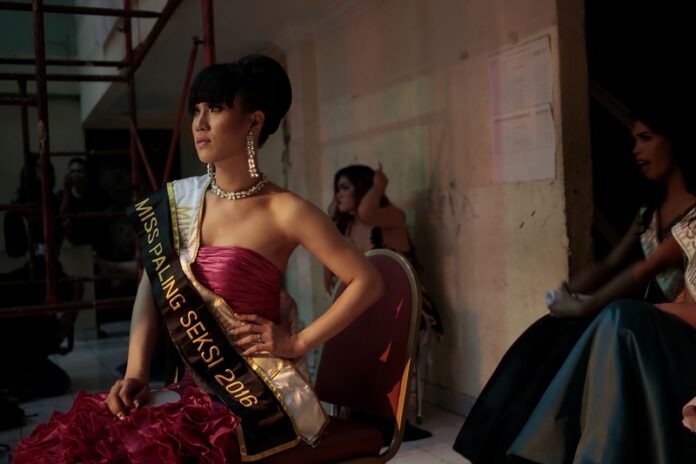 JAKARTA, Indonesia — Transgender people and gay activists from across Indonesia have defied a wave of hatred against sexual minorities to crown a Miss Transgender at a national pageant held in absolute secrecy.
A handful of journalists were notified just a few hours in advance of the location of the event, held in the capital, Jakarta, to prevent any attempts by Islamic hard-liners to shut down the pageant. And because of the risk of discovery and violence, organizers asked those present not to post anything on social media during the contest.
Qienabh Tappii, a 28-year-old representing Jakarta who wore a figure-hugging, iridescent metallic gown, triumphed over more than 30 other contestants Friday night to be crowned Miss Waria Indonesia 2016. She will represent Indonesia at an international pageant to be held in Thailand next year. "Waria" is the Indonesian word for transgender, a term for people whose sense of their gender is different from their sex at birth.
"I'm very happy, I feel like I want to cry," said Tappii, standing next to a 2-meter (6.5-foot) -tall gold and red trophy while cradling a smaller one.
"Tonight is the beginning of my struggle for my rights as a waria," she said. "I want waria to be accepted, appreciated and understood in our society, and to be equal with other Indonesians. I will work really hard to achieve it."
The successful staging of the pageant was an important morale boost and self-affirmation for a community that is increasingly under siege.
Indonesia, the world's most populous Muslim nation, is often held up as practicing a moderate form of Islam. But that reputation for tolerance has been undermined in the past year as the media and religious and political leaders stoked prejudice against lesbian, gay, bisexual and transgender people, framing them as a threat to the nation.
It was in part a backlash against the worldwide advance of LGBT rights, and in particular the success of the gay marriage movement in the U.S. and the high-profile battles there over whether transgender people can use the public bathrooms of the gender they identify with.
Indonesia's conservatives want to push LGBT people back into the margins of society and deny them legal rights. It's an agenda that has capitalized on low levels of awareness in a society where open discussion of sexuality is often frowned upon. But it also clashes with the traditions of some cultures in ethnically diverse Indonesia that have for centuries allowed space for different genders and sexual identities.
"If the public knew in advance that there will be such an event, those who use religion as their mask could attack us. That's why we kept it secret until the last minute," said pageant organizer Nancy Iskandar.
"The radicals are very arrogant. I'm afraid that it could erupt into physical confrontation," Iskandar said. "We don't want them to step on us forever. What's in it for them anyway? We're not doing any harm."
Opposition from hard-liners prevented the long-running event, which is organized by Putri Waria Indonesia Foundation and Indonesian Waria Communication Forum, from being held twice in recent years.
Indonesia's police often side with or look the other way when Islamic hard-liners attack or intimidate LGBT groups, religious minorities, women's rights groups and any cultural events they take exception to.
Fitri Pabentengi, a member of the Bugis ethic group, which recognizes five genders, said he traveled from Makassar on Sulawesi island — 1,400 kilometers (870 miles) to the east — for the pageant. In his community he is "bissu," one of the five genders, which roughly corresponds to androgynous. Bissu are traditionally priests or shamans.
"I came all the way from Makassar to show my solidarity," said Pabentengi. "We Indonesian waria have the same feelings, what they feel in Jakarta we also feel it in Makassar."
About 200 people filled the small theater for the finale of the high-energy showcase of idealized feminine beauty. Thirty-four transgender women vied for the title, competing over three days, though four dropped out because they feared the event might be disrupted.
Aside from Miss Transgender, there were a slew of other titles up for grabs, including most sexy, most intelligent and most beautiful skin.
"We want to show that waria can also do positive things," said Miss West Java, Dinda Syariff.
"People said that we are the scum of the society — that's so not true," Syariff said.
Story: Dita Alangkara