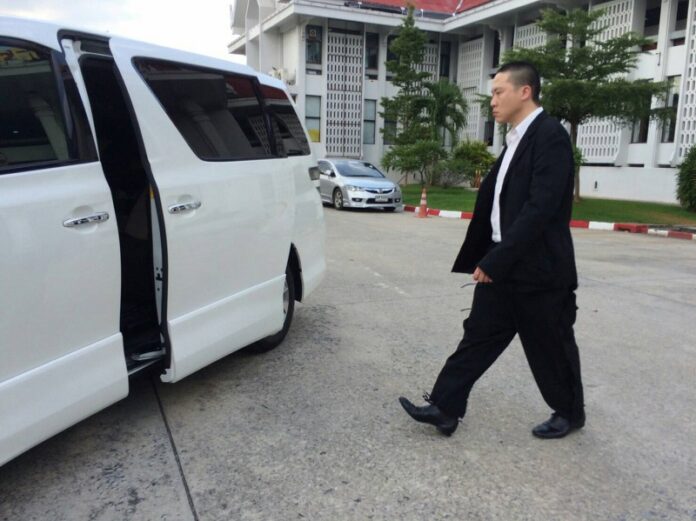 AYUTTHAYA — A businessman accused of vehicular manslaughter surprised the court Monday by announcing he is now fit to stand trial.
Jenphop Viraporn, who came to the Ayutthaya provincial court without his attorney, withdrew his previous claim that he was mentally incompetent to stand trial eight months after he allegedly sped his Mercedes Benz into the back of another car, killing two students within.
Read: Prosecutors to Contest Jenphop's Insanity Defense
Jenphop's decision came minutes before the court was due to examine his psychiatrist who was set to vouch for his mental condition. The move means the court case against Jenphop for the deaths of two graduate students on  March 13 can now proceed.
"The process will be quicker," said attorney Wichian Chubthaisong, who represents the family of Thantapat Horsaengchai, one of the victims killed in the high-speed crash. "It's positive for us."
Jenphop attended the court session on his own. He said his lawyer withdrew from the case.
Wichian said Jenphop informed the prosecutor's office to scrap the hearing on his mental health right before the examination began, surprising everyone involved in the case. According to Wichian, the defendant stated that he had now fully recovered.
Wearing a black cloak, Jenphop walked into the courtroom at about 1:30pm and informed the judges of his intent to withdraw his claim. He appeared to be fully receptive, answering judges' questions and walking unaided, albeit with a slight limp.
Jenphop declined to be interviewed.
The 37-year-old millionaire had previously asked the court to shelve his trial on the grounds that he was mentally unfit.
On March 13 Jenphop slammed his Mercedes Benz onto the back of a Ford, reportedly at a speed of over 200kph. The crash killed Thantapat, 34, and her classmate Krissana Thaworn, 32.
He later refused to undergo a sobriety test, which by default led to a charge of deadly DUI. If convicted, he faces up to 10 years in prison.
Among those present at the court today were Krissana's mother, sister and girlfriend. Thantapat's family did not attend the hearing.
Missing Lawyer
No reason was given as to why the defendant's lawyer had walked away from the case.
One of the two presiding judges expressed disbelief when he heard the news. Jenphop had not informed the court beforehand.
"This is wasting everyone's time!" the judge exclaimed, before turning to Jenphop. "Are you going to change your lawyer again next time?"
"No, sir." Jenphop said.
The defendant was then instructed to appoint a new lawyer before deposition are taken two weeks from now, otherwise the hearing will be postponed. A sister of Krissana, one of the victims, said she's concerned that Jenphop might be stalling.
"I am not sure if it is one of his methods to delay the process," Nongkarat Rungsang said. "We are worried."
Another plaintiff lawyer, Prinya Sanitchone, said the judges will appoint a courthouse attorney for Jenphop if he keeps changing his lawyers.
"I believe the court will be strict on this matter," Prinya said.
Jenphop's next court appearance is Nov. 28.
Related stories:
Fresh Charge Against Jenphop as Model Student Victims Laid to Rest
Top Cop Apologizes for Delay in Jenphop Case