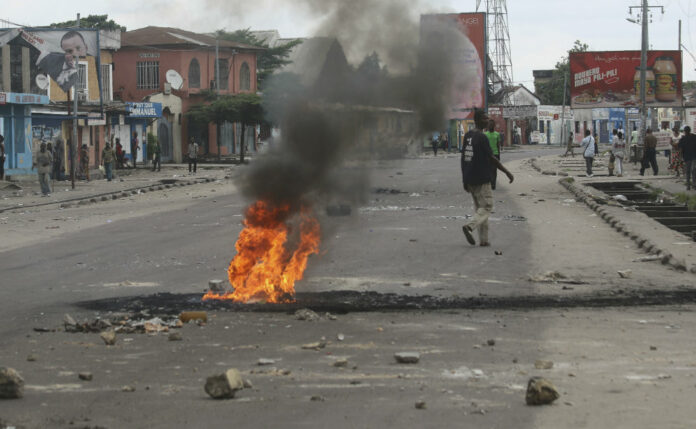 KINSHASA, Congo — Security forces in Congo have killed at least 26 demonstrators and arrested scores more amid protests against President Joseph Kabila's hold on power, a rights group says.
Military and police forces were firing live bullets, raising fears that more people were killed in the first day after Kabila's mandate expired, Human Rights Watch said. Its researcher Ida Sawyer said on Twitter late Tuesday that the killings took place in the capital, Kinshasa, the southern city of Lubumbashi and elsewhere. Residents told the group that Republican Guards were carrying out door-to-door searches and arresting youths.
Protesters burned the headquarters of the ruling party in Kinshasa.
Political talks between the ruling party and opposition, which stalled over the weekend, were expected to resume on Wednesday with mediators from the Catholic church.
Kabila, who took office in 2001 after his father's assassination, is constitutionally barred from seeking another term, but a court has ruled that he can remain in power until new elections, which have been delayed indefinitely. They were meant to be in November, but the ruling party says it needs more time — until 2018, at least.
The leader of Congo's largest opposition party, Etienne Tshisekedi, has urged peaceful resistance to what he called Kabila's "coup d'etat." In a statement posted on YouTube, he called the president's actions "treason" and appealed to the Congolese people and the international community to no longer recognize Kabila's authority.
The political impasse has fueled fears of widespread unrest in the vast Central African nation that has trillions of dollars' worth of natural resources but remains one of the world's poorest and most unstable countries.
The political negotiations that stalled over the weekend failed to reach an agreement on a date for new elections or the release of political prisoners. Both are key demands of the opposition parties, along with the dropping of criminal charges against opposition leader Moise Katumbi, who fled the country as authorities announced plans to try him. Katumbi's supporters say the charges of hiring mercenaries are politically motivated, as he had been a leading presidential candidate.
Kabila's government has tried to ease tensions by including some opposition figures. Shortly before Kabila's mandate expired, the new opposition Prime Minister Sami Badibanga announced his new transition government.
Although a small part of the opposition, including Badibanga, took part in an earlier national dialogue mediated by the African Union, most of the opposition, including Tshisekedi, refused to take part and rejected an agreement signed in October.
People inside and outside Congo have feared a repeat of the dozens of deaths in September, when the opposition took to the streets after the electoral commission failed to schedule the presidential election.
In Kinshasa's Matonge neighborhood on Tuesday, people played soccer in the street to block traffic as a form of protest amid the heavy police and military presence.
"Kabila has betrayed our country. He must leave," said Jean-Marcel Tshikuku, a mechanic. "He announced a new government just at the end of his mandate. It's an insult! We don't want him anymore. We don't want negotiations to resume. He must get out, that's all."
Story: Saleh Mwanamilongo. Carley Petesch and Krista Larson in Dakar, Senegal, contributed.