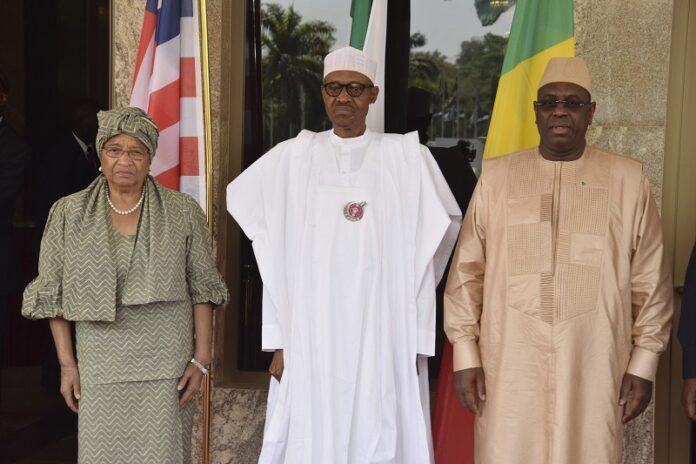 ABUJA, Nigeria — Nigeria's President Muhammadu Buhari will lead three West African heads of state to Gambia on Wednesday in an effort to persuade its longtime leader to step down, officials said Monday.
A meeting Monday in Abuja agreed on the mission, Nigerian Foreign Minister Geoffrey Onyema said of the second presidential delegation from the Economic Community of West African States to visit Gambia since President Yahya Jammeh lost Dec. 1 elections.
Jammeh initially conceded the loss, but changed his mind.
The West African bloc has said it has a military force on standby if Jammeh refuses to cede power when his mandate expires Jan. 19.
Leaders meeting Saturday in Ghana said they were working on a diplomatic solution.
But Onyema told journalists on Monday that "every option is on the table" and "violence should be avoided, but nothing is ruled out."
He said the regional bloc is "prepared and determined to take advantage of any of the options that it feels is appropriate" to install election winner Adama Barrow as the rightful president.
The United States, European Union and others have condemned Jammeh's stance and supported efforts to enforce Gambia's Constitution.
Monday's meeting included the presidents of Liberia and Senegal, which would lead any military intervention.
The leaders expressed particular concern over the deteriorating security situation. Jammeh has mobilized troops, closed radio stations and ordered arrests, leading to a "mass exodus" of Gambians to their country's interior and to neighboring countries, Onyema said.
Nigeria also has said scheduling conflicts prevent it from sending judges to Gambia on Tuesday to help consider a petition from Jammeh's party challenging the election that Barrow won.
Gambia's Supreme Court has been dormant for over a year and has only one sitting judge, Chief Justice Emmanuel O. Fagbenle.
"Our Justices are usually scheduled to sit in your Supreme Court in the months of May and November," Nigeria's Acting Chief Justice W.S.N. Onnoghen wrote to Fagbenle in a letter dated Jan. 5. "I regret to inform you that the re-scheduled date for this sitting session of your Supreme Court is unfavorable to us as it will greatly affect our schedule and case management."
Jammeh seized power in a bloodless coup in 1994, but is accused of gross human rights violations that include arbitrary detentions, torture and the killings of his opponents in the country of 1.9 million people.
Story: Bashir Adigun