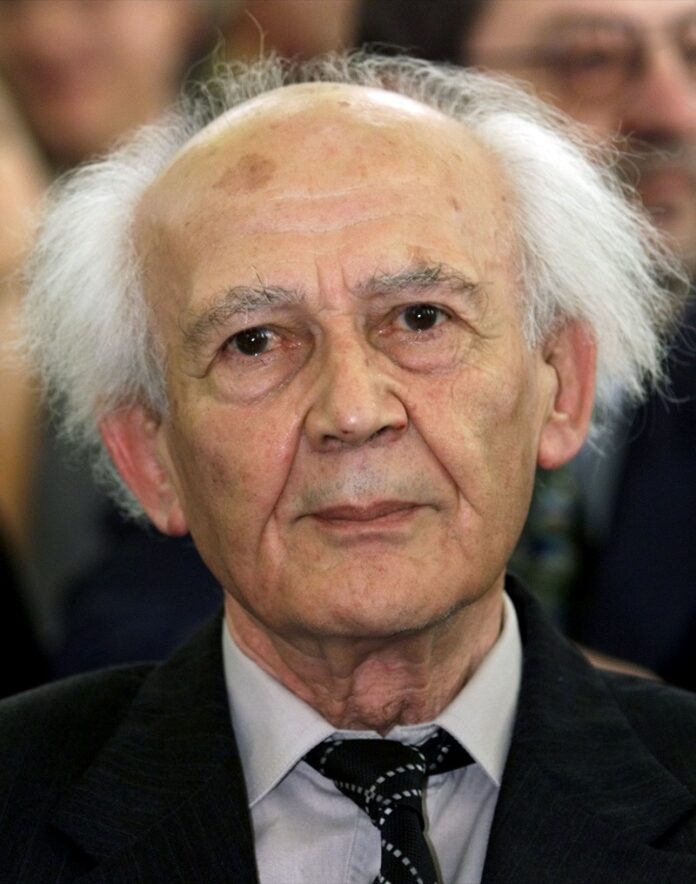 WARSAW, Poland — Zygmunt Bauman, one of the most prominent and prolific European sociologists of recent decades, has died at the age of 91. The Polish-born left-wing thinker's works explored the fluidity of identity in the modern world, the Holocaust, consumerism and globalization.
Bauman died at his home in Leeds, England, on Monday surrounded by his family, according to Anna Zejdler-Janiszewska, a Warsaw-based philosophy professor and friend of Bauman's who was informed of his death by his wife.
Renowned for an approach that incorporated philosophy and other disciplines, Bauman was a strong moral voice for the poor and dispossessed in a world upended by globalization. Whether he was writing about the Holocaust or globalization, his focus remained on how humans can create a dignified life through ethical decisions.
He wrote more than 50 books, notably "Modernity and the Holocaust," a 1989 release in which he differed with many other thinkers who saw the barbarism of the Holocaust as a breakdown in modernity. Bauman viewed the mass exterminations of Jews as the very outcome of such pillars of modernity as industrialization and rationalized bureaucracy.
"It was the rational world of modern civilization that made the Holocaust thinkable," Bauman wrote.
In the 1990s, Bauman coined the term "liquid modernity" to describe a contemporary world in such flux that individuals are left rootless and bereft of any predictable frames of reference.
In books including "Liquid Times" and "Liquid Modernity" he explored the frailty of human connection in such times and the insecurity that a constantly changing world creates.
"In a liquid modern life there are no permanent bonds, and any that we take up for a time must be tied loosely so that they can be untied again, as quickly and as effortlessly as possible, when circumstances change," Bauman wrote.
In informing friends in Poland of his death Monday, Bauman's wife wrote that he had gone "to liquid eternity."
In Poland, he was a controversial figure in some circles. In 2006, a right-wing historian uncovered documents showing that Bauman served as an officer in a Stalinist-era military organization, the Internal Security Corps, which helped to impose communism on the nation by killing resisters to the regime.
Bauman acknowledged belonging to that unit, but he insisted that he only had a desk job. No evidence has surfaced linking him to any killings.
Some nationalists saw him as an enemy of the country.
In 2013, supporters of a far-right organization disturbed a public debate with Bauman in the western Polish city of Wroclaw, whistling and shouting "Shame!" and "down with communism!" and holding up photos of Polish resistance fighters killed by the communists.
After that he stopped visiting his homeland.
Beyond Poland, Bauman's theories were a major influence on the anti-globalization movement. He focused on the outcasts and the marginalized, describing how many people have seen their chances of a dignified life destroyed by the new borderless world. As a result, he found a following in Spain and Italy, where young adults were hit especially hard by economic dislocation in recent years.
"The key thing was that Bauman did not talk at or down to his audience – when he was talking he was listening, when he was teaching he was learning. His books and seminars were places where we could come together and explore together how to be human," Keith Tester, co-author of "Conversations with Zygmunt Bauman" and a former student of Bauman's, told The Associated Press on Monday.
Bauman was born Nov. 19, 1925, in Poznan, Poland, into a Jewish family that had suffered poverty and anti-Semitism, something that inspired his lifelong belief in tolerance and social justice.
Speaking decades later of how he became a communist, he recalled his family's poverty, the "blows and kicks" inflicted on him by non-Jewish children on the playground, and "the humiliations which my father, a man of impeccable honesty, had to suffer from his bosses to feed his family."
He was not yet 14 when Germany invaded Poland in September 1939 and World War II began. His family survived the Holocaust by fleeing to the Soviet Union. There, Bauman, still a teenager, joined a Polish army unit that formed under Soviet command, earning Poland's Military Cross of Valor for his bravery fighting the Nazis.
After the war, he rose quickly in the military ranks and by the early 1950s had become one of the youngest majors in the Polish army. During these years he was a communist and a member of the Polish Workers' Party.
In 1953, he was abruptly fired from his army job, apparently the victim of the communist regime's anti-Israel stance – Bauman's father had been seen making inquiries at the Israeli Embassy about emigrating.
Bauman studied sociology, then philosophy, at the University of Warsaw, and was teaching there when the communist regime waged an anti-Semitic campaign in 1968. He lost his job and he and his family were expelled from the country along with thousands of other Polish Jews.
Though he was a vocal critic of Israel's treatment of the Palestinians, once likening the West Bank to the Warsaw Ghetto, Bauman lived and taught for a short time in Israel. He lectured at universities in Tel Aviv and Haifa from 1969 to 1971, before he and his family settled in Britain.
Bauman headed the Department of Sociology at the University of Leeds until his retirement in 1990, but continued to write prolifically even after his retirement, often producing a book a year.
Among his numerous honors were the European Amalfi Prize for Sociology in 1992, the Theodor W. Adorno Award in 1998 and the Prince of Asturias Award in 2010. The University of Leeds also created the Bauman Institute in his honor, dedicated to many of his concerns, including ethics, consumerism, globalization and modernity.
Bauman's wife of 62 years, Janina Bauman, died in 2009. He is survived by his second wife, Aleksandra Jasinska-Kania, the daughter of postwar Polish president Boleslaw Bierut, three daughters and several grandchildren.
Story: Vanessa Gera