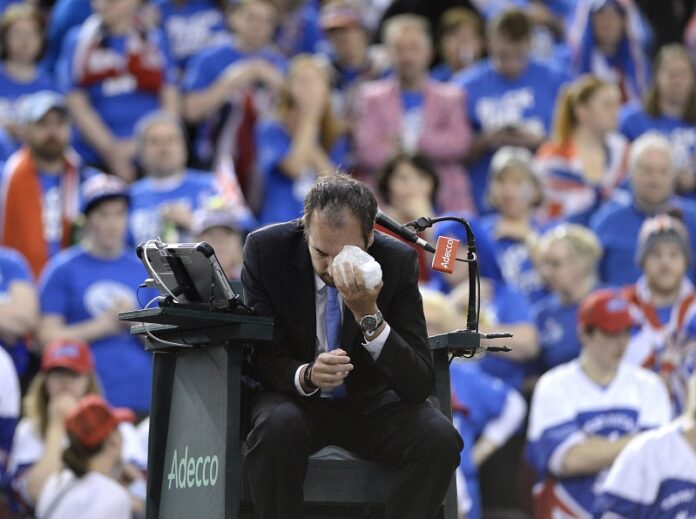 OTTAWA, Ontario — In a startling ending to a Davis Cup match, Canada lost to Britain on Sunday when a 17-year-old player, frustrated by missing an easy shot, suddenly launched a spare ball that hit the chair umpire in the left eye.
Britain advanced to the World Group quarterfinals with Kyle Edmund's 6-3, 6-4, 2-1 default victory over Denis Shapovalov in the decisive fifth match.
Shapovalov had just been broken by Edmund, hitting wide on a simple backhand, when he took a ball out of his pocket and wildly smacked it.
The ball struck umpire Arnaud Gabas of France in the face, and the contact resulted in an automatic default. Gabas put ice under his eye as swelling and bruising began and was taken to Ottawa General Hospital for a precautionary evaluation.
http://www.youtube.com/watch?v=yteWt9Fcigs
Shapovalov immediately came over to check on Gabas after the accident and appeared to be shaken, holding his head in a towel.
"Obviously this is unacceptable behavior from me," Shapovalov said. "I just feel awful for letting my team down, for letting my country down, for acting a way that I would never want to act."
"I can promise that's the last time I will do anything like that," he said.
The crowd of 7,497 at TD Place was stunned by the turn of events. Team Canada captain Martin Laurendeau had never dealt with a similar situation.
"He's not that kind of guy. It's just the beginning of his career, so he'll draw a big lesson out of this," Laurendeau said. "Curbing your emotions on the court is probably something that he'll need to make a living out of this sport. You can't compete if you don't have emotional control and this lesson can serve him for the rest of his career and the rest of his life."
The first-round victory moved Britain into a meeting with France in the quarters. Britain is assured a spot in the World Group next year while Canada must win a World Group playoff tie to keep its spot for 2018.
Vasek Pospisil defeated Britain's Daniel Evans 7-6 (3), 6-4, 3-6, 7-6 (5) earlier Sunday, tying the matchup at 2-all.
Pospisil said Shapovalov's action was out of character.
"No one is nicer or carries themselves better for a 17 y/o than Shapovalov. Everyone can see that today was an accident. Can happen to anyone," Pospisil tweeted.
Britain team captain Leon Smith called the turn of events "a shame."
"I feel sorry for Denis. He's gotten a harsh lesson," Smith said. "He'll learn, I'm sure. But firstly I hope the umpire's OK. That can be really dangerous."