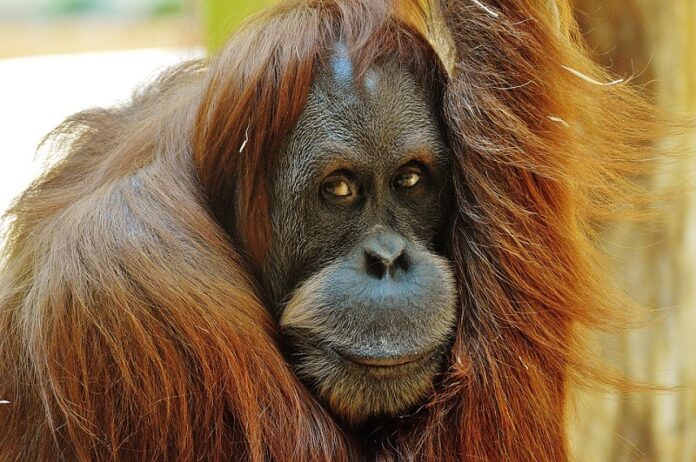 JAKARTA — Conservation groups in Indonesia have returned 17 critically endangered orangutans to their natural forest habitat in the past month, airlifting some by helicopter to a remote area of Borneo where they hope the rehabilitated great apes will be safe from human encroachment.
Orangutan Foundation International released 10 orangutans into a privately leased peatland forest the size of Singapore in Central Kalimantan in late February. All 10 were born in the wild but half were orphaned by deforestation and the others had been kept as pets before being rescued.
Another group, BOS Foundation, freed seven orangutans in early March, releasing them into the 86,000 hectare Kehje Sewen Forest in East Kalimantan, which it controls though a long-term permit from the Indonesian government. It said the two males and five females were transported by road to a private airstrip and then flown by helicopter to locations in the north of the forest, a journey that would take three to four days by foot.
"We need forest which is far from the activities of people," said Jamartin Sihite, the foundation's chief executive. Using helicopters is a costly exercise, he said, but "we will do everything we can for the orangutan to send them back to their habitat safely."
The International Union for Conservation of Nature last year declared Bornean orangutans to be critically endangered and said the population on the giant island that is divided between Indonesia, Malaysia and Brunei had dropped by nearly two-thirds since the early 1970s.
An onslaught of forest destruction for pulp wood and palm oil plantations has dramatically reduced and fragmented their habitat. They are often hunted for their meat or killed by plantation workers when they venture out of the shrinking forest in search of food. The only other orangutan species, the Sumatran orangutan, is endemic to the Indonesian island of Sumatra and has been critically endangered since 2008.
Orangutan Foundation International has been involved in orangutan conservation and rehabilitation for several decades. It grew out of the pioneering work of Birute Mary Galdikas, who in 1971 set up camp in a Borneo jungle to study the little understood great ape and 45 years later is still based there.
She was one of the "ape angels" of the famous anthropologist Louis Leakey, who encouraged the work of Jane Goodall in Kenya and Dian Fossey in Rwanda studying chimpanzees and mountain gorillas, and Galdikas in Borneo.
Galdikas said the foundation has returned about 500 orangutans to the wild over the years. The foundation said an encouraging aspect of its latest releases was the eagerness of an adolescent male known as Cooper to mate with a female orangutan, Emily, immediately after they were released.
BOS, which carried out its first release of rehabilitated orangutans in 2012, said its monitoring shows there have been two natural births among the released orangutan population in Kehje Sewen. It hopes to release 200 of the gentle hirsute primates this year.
It takes years to return an orangutan to the wild. Finding a suitable location is a key challenge, as is rehabilitating orangutans so they can thrive when returned to a natural habitat.