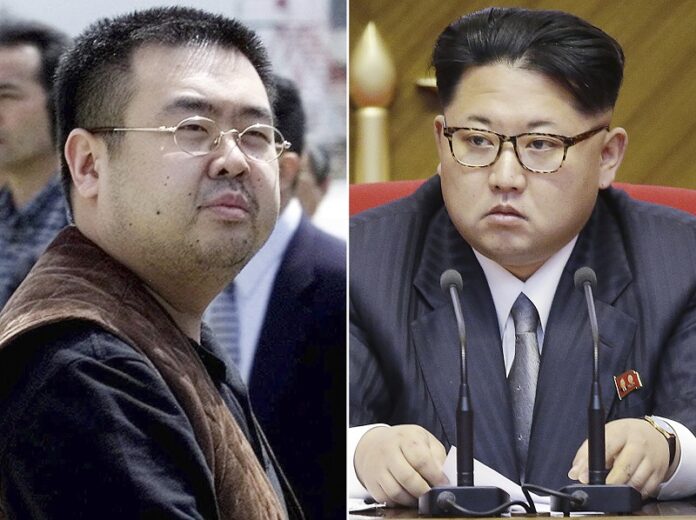 KUALA LUMPUR — Nine Malaysians held in North Korea returned to Malaysia's capital early Friday after the government released the body of Kim Jong Nam, the estranged half brother of North Korea's leader, to the North. The exchange ended a bitter diplomatic battle between the two countries more than a month after Kim's murder at Kuala Lumpur's airport.
Following negotiations that he described as "very sensitive," Prime Minister Najib Razak said Malaysia agreed to release the body in exchange for the return of the nine Malaysians held in Pyongyang.
There were no details on what led to the breakthrough, but North Korea appeared to win some important concessions: Custody of the body and the release of at least two suspects who had been holed up in its embassy in Kuala Lumpur.
The Malaysians – three embassy workers and six family members including four children – were flown home in a government jet and greeted by Foreign Minister Anifah Aman at the airport early Friday. Anifah said their safe return reflected "diplomacy at its best" but declined to provide further details on the deal with North Korea.
Oh Ei Sun, an adjunct senior fellow with Singapore's Rajaratnam School of International Studies, said it was not a surprise that North Korea did well in the negotiations.
"North Korea has been performing despicable deeds around the world such as kidnapping and assassinations throughout the decades with impunity," Oh said.
The public poisoning of Kim, which took place amid crowds of travelers in the budget terminal at Kuala Lumpur's airport on Feb. 13, has prompted speculation that North Korea dispatched a hit squad to assassinate its leader's estranged older brother.
Although Kim was not an obvious political threat, he may have been seen as a potential rival in the country's dynastic dictatorship.
Malaysia has never directly accused North Korea of being behind the murder, but many say the weapon – VX nerve agent, a banned chemical weapon – suggests the North must have orchestrated it. Experts say the VX was almost certainly produced in a sophisticated state weapons laboratory, and North Korea is widely believed to possess large quantities of chemical weapons.
Malaysia's investigation has enraged North Korea. It has denied any role in the killing and denounced the investigation as flawed and politically motivated. North Korea does not even acknowledge the victim is Kim Jong Nam, referring to him instead as Kim Chol, the name on the passport he was carrying when he died.
But North Korea has always demanded custody of the body, arguing that the victim was a citizen.
As tensions escalated in recent weeks, both countries withdrew their ambassadors and North Korea blocked nine Malaysians who were in the country at the time from leaving. Malaysia responded in kind, barring North Koreans from exiting its soil, including three North Korean suspects believed to be hiding in the North Korean Embassy.
On Thursday, both sides appeared to emphasize that ties were on the mend.
"Both countries agreed to lift the travel ban imposed on citizens of the other country and guarantee their safety and security," said a statement from North Korea's official Korean Central News Agency.
The two countries did not say whether that included the three suspects. However, Japanese media released a video reportedly showing two of the suspects – an embassy employee and a worker for the North Korean state airline, Air Koryo – on an airplane, and of cargo identified as Kim's casket.
Four other North Korean suspects left the country on the day Kim was killed.
Custody of the body has been a flashpoint in the case since the start. Until now, Malaysia refused to hand it over. Malaysia said it held on to the body in order to formally identify the corpse, which it now says it has done, using DNA from Kim's son.
The KCNA statement said Malaysia had agreed to transfer the body "to the family of the deceased" in North Korea.
Kim, however, is believed to have children with women living in Macau and Beijing, not in North Korea. Government officials could not immediately be reached for further details.
Kim, who was in his mid-40s and had lived abroad for years, was estranged from his younger brother, North Korean leader Kim Jong Un.
The elder Kim was reportedly pushed aside by his stepmother, then completely fell out of favor when he was caught trying to enter Japan on a false passport in 2001, saying he wanted to visit Tokyo Disneyland. While he is believed to have kept out of politics, he has given brief interviews criticizing dynastic succession in North Korea.
In the airport attack , a series of grainy images taken by security cameras show two women – identified by police as an Indonesian and a Vietnamese – rub something on Kim's face before swiftly walking away in opposite directions. The women, who were quickly arrested and charged with murder, say they were duped into thinking they were taking part in a hidden-camera prank TV show.
Thursday's diplomatic deal signaled a mending of relations between Malaysia and North Korea, at least on the surface.
While it isn't one of North Korea's key diplomatic partners, Malaysia had been one of the few places in the world where North Koreans could travel without a visa.
Although that visa arrangement was scrapped after the killing, it meant that Malaysia had been a quiet destination for North Koreans looking for jobs, schools and business deals.
Story: Eileen Ng