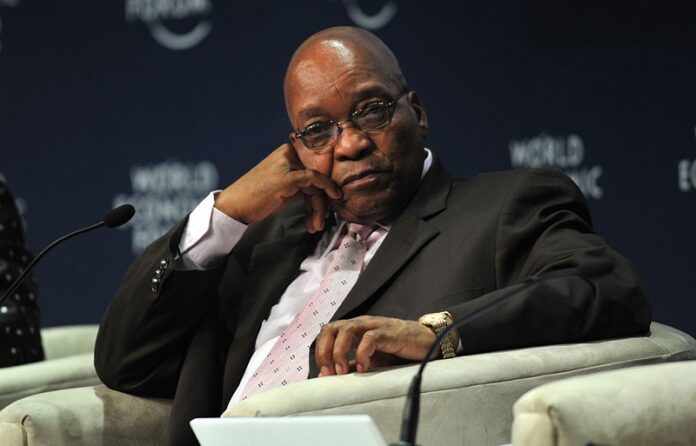 JOHANNESBURG — South Africa's president replaced his embattled finance minister early Friday in an expected move that spooked investors this week and sent the currency tumbling.
President Jacob Zuma's replacement of Pravin Gordhan comes as part of a Cabinet shuffle that changes 10 of the country's 35 ministers. "Holy wow. Midnight ministerial massacre in South Africa," former U.S. Ambassador Patrick Gaspard tweeted.
Pressure has been growing on Zuma to step down after he recalled Gordhan, who has a strong reputation as a bulwark against corruption, from a trade trip in London earlier this week. The recall caused South Africa's rand to lose nearly 5 percent, another blow to Africa's most industrialized economy that has stalled amid high unemployment.
Many South Africans had viewed Gordhan as a responsible steward of an economy facing possible credit rating downgrades. Gordhan has been replaced by Malusi Gigaba, a former home affairs minister, a statement from the president's office said.
Frustration has been growing with Zuma after numerous allegations of corruption. South Africa's two main opposition parties took aim at the president on Thursday, with one appealing to the highest court to order impeachment proceedings and the other announcing it will launch a vote of no confidence.
On Wednesday, Gordhan inspired a standing ovation at the funeral of one of South Africa's leading anti-apartheid activists as longtime leaders of the ruling African National Congress, the country's former liberation movement, called for Zuma to step down. The outcry by funeral-goers including the ex-wife of Nelson Mandela, Winnie Madikizela Mandela, further exposed the ruling party's divide.
The new Cabinet changes are "to improve efficiency and effectiveness," the statement from Zuma's office said.
But even allies of the ruling party had warned against replacing Gordhan. Deputy general-secretary Solly Mapaila of the South African Communist Party, which is in an alliance with the ANC, warned Thursday that the party's seven Cabinet members would resign if Zuma fired the finance minister.
The Cabinet shuffle comes as the calls for Zuma to step down grow.
"Zuma has bowed to the whims of those who determined to enrich themselves at the expense of the poor & jobless," the country's the main opposition party, the Democratic Alliance, tweeted after the announcement. The party on Thursday said it would launch a vote of no confidence in Zuma in parliament.
Also Thursday, the Economic Freedom Fighters opposition party applied to the country's highest court to order parliament to begin impeachment proceedings against the president for lying to the legislative body.
The EFF called it "a last resort," with party leader Julius Malema accusing parliament, which is dominated by the ANC, of failing in its duty to hold the president accountable.
The scandal-ridden Zuma in November survived an attempt by senior party members to oust him as president. Earlier last year, South Africa's highest court found that Zuma had violated his oath of office by refusing to abide by an order to pay back some of the millions of dollars in public money spent on upgrading his rural home.
Zuma also continues to face criticism over his acquittal for rape 10 years ago, with four young women holding up signs in protest in front of the president in August as he spoke on live television after the ANC's worst municipal election showing since it took power in 1994.
Gordhan became South Africa's finance minister after Zuma's abrupt decision in December 2015 to fire Finance Minister Nhlanhla Nene and replace him with a relatively unknown figure, David van Rooyen, unsettled markets and prompted a national outcry.
Late last year, prosecutors dropped fraud charges against Gordhan that were criticized by many South Africans as politically motivated and deepened concern about alleged government mismanagement.
Deputy President Cyril Ramaphosa was among high-ranking officials in the ruling party who expressed their support for the finance minister. Ramaphosa is seen as a likely candidate to succeed Zuma as ANC leader at the ruling party's conference in December.
Story: Cara Anna