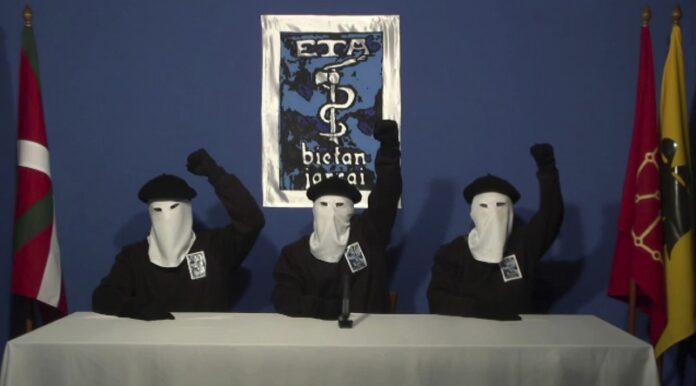 MADRID — The armed Basque separatist group ETA, inactive for more than five years, is to hand over its arms Saturday, a finishing touch to a 43-year violent campaign that claimed 829 lives, mostly in Spain.
Disarmament is the second-to-last step demanded by France and Spain, which want ETA to formally disband. The organization hasn't said if it will do that.
While disarmament is a crucial step to ending the Basque conflict, it remains to be seen whether the gradual fade-out on one of the Europe's last standing violent nationalist conflicts can help heal the decades-old social divisions it caused in Spain and its northern Basque region.
There's also an issue of what to do with the hundreds of jailed ETA members and the handful still on the run. Hundreds of killings also remain unsolved and the arms could help lead to some of the perpetrators.
Here's a glance at the conflict and the disarmament plan.
ETA and its Aims
ETA's name is a Basque-language acronym for Euskadi Ta Askatasuna, meaning Basque Homeland and Freedom. It emerged in the late 1950s during the dictatorship of Gen. Francisco Franco, which repressed Basque and other cultures in Spain.
The group's stated aim was to form an independent state from Basque areas on both sides of the Pyrenees. Basques have a distinct culture and an ancient language, Euskara.
ETA's first victim was a Civil Guard police officer killed in 1968. The second was a police commissioner.
ETA later began to target politicians, civil servants and journalists, as well as business representatives who refused to pay the "revolutionary tax" demanded to finance the group.
In 1973, ETA killed Franco's designated successor, Adm. Luis Carrero Blanco, by bombing his car in central Madrid.
Democracy formally returned to Spain in 1978, three years after Franco's death, but ETA's campaign intensified. One of its most notorious attacks killed 21 people in a supermarket bombing in Barcelona in 1987.
Shadowy death squads, meanwhile, killed more than 60 people in what was known as the Spanish government's "dirty war" against the group.
While ETA may have enjoyed some support during the Franco dictatorship, social rejection increased over the years and then erupted massively in 1997 following the kidnapping and brutal slaying of Miguel Angel Blanco, a 29-year-old small town-councilor.
The French Connection
ETA carried out most of its attacks in Spain while using southwestern France as a hiding place for its members and arms stashes.
Increased cooperation by French authorities in the 1990s helped Spain's police and judiciary go all out against ETA and its supporters, leading to the closure of newspapers close to the militants and the banning of political and social groups seen as speaking for ETA.
Over the years there were cease-fires and some fruitless negotiations with the Spanish government, only for the bombings and shootings to resume.
Depleted by arrests and wracked by divisions among its members and political allies, ETA announced a definitive cease-fire in December 2011.
Its hope of beginning negotiations with France and Spain was rebuffed. Both countries also rejected ETA's suggestion that an independent commission of experts should verify the decommissioning of its arms, which would have shielded the weapons from police investigating more than 200 unresolved killings.
The Handover
ETA says it has now placed the disarmament in the hands of intermediaries that call themselves "peace artisans."
By Saturday, this group has pledged to provide the International Verification Commission with the means to locate the arms under ETA's control, which will then be confiscated by French authorities. Some stashes could be missed because the group's current leaders may not have records.
The Basque regional government, which has helped mediate the process, says "ETA's disarmament will be complete, definitive and carried out in one single act."
Experts view the disarmament as symbolic, saying ETA's arsenal is already diminished and much of it obsolete.
Alfredo Perez Rubalcaba, the former Spanish interior minister who directed the police crackdown that led to the 2011 cease-fire, estimates that ETA had fewer than 200 guns at the time. He believed that materials to build explosives could be expired by now.
Voluntary Act or Rendition?
Saturday's weapon handover will not be public and no Spanish or French government representatives with participate.
In the afternoon, thousands of supporters of Basque independence supporters are expected to join in a demonstration in the French town of Bayonne to cap the event.
Spain has accused the organizers of trying give the impression that the arms are being handed over voluntarily when in reality, it argues, this is surrender.
Story: Aritz Parra