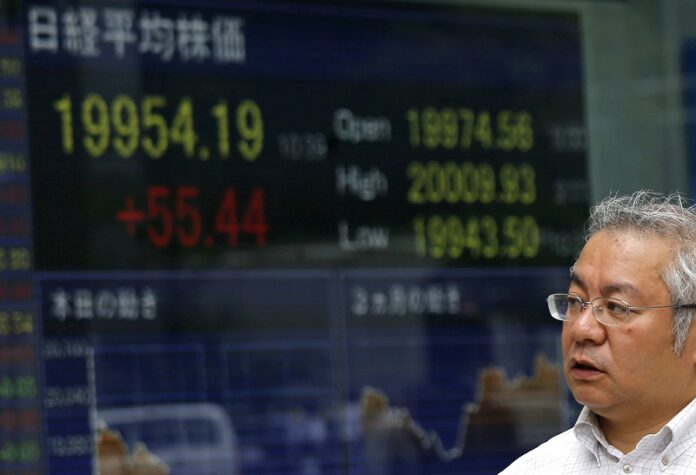 BEIJING — Asian stocks were lower Wednesday following Wall Street's tech-driven rise as investors waited for word from the U.S. Federal Reserve on a possible interest rate hike.
Keeping Score: The Shanghai Composite Index lost 0.6 percent to 3,135.32 and Tokyo's Nikkei 225 shed 0.1 percent to 19,917.51. Hong Kong's Hang Seng declined 0.3 percent to 25,786.00 and Seoul's Kospi was off 0.2 percent at 2,369.51. Sydney's S&P-ASX 200 gained 0.8 percent to 5,818.90 and India's Sensex was unchanged at 31,110.09. Benchmarks in New Zealand and Thailand rose while Singapore and Manila retreated.
Wall Street: U.S. stocks bounced back to record highs as investors put an end to a two-day drop for technology companies. Energy and consumer-focused companies also made outsize gains. The Standard & Poor's 500 index picked up 0.5 percent to 2,440.35. The Dow Jones industrial average rose 0.4 percent to 21,328.47. The Nasdaq composite, which has a large concentration of technology companies, rose 0.7 percent to 6,220.37.
Fed Watch: The U.S. Federal Reserve ends a two-day policy meeting on Wednesday, and investors expect the central bank to raise interest rates for the third time since December. They also are watching for the Fed's latest views on inflation and hints on how aggressive it will be in raising interest rates in the future.
Analysts' Take: "Despite stubbornly low inflation, the Fed is widely anticipated to lift its interest rate tomorrow," Ric Spooner of CMC Markets said in a report. "In a further sign that the Fed is leading a gradual global exit from monetary stimulus, Canada's Central Bank Governor last night surprised markets with hawkish comments."
China: Government data showed retail sales in May rose 10.7 percent from a year earlier, a small gain over the 10.3 percent rate for the first four months of the year. Factory output rose 6.5 percent over a year earlier, holding steady at April's rate. Growth in investment in factories, real estate and other fixed assets decelerated to 8.6 percent over a year earlier in the first five months of 2017, down 0.3 percentage points from the rate in January-April.
Brexit: The European Union moved to tighten its oversight of a key financial market based in London, threatening tens of thousands of jobs in Britain once the country exits the bloc. Draft regulations published by the EU executive Commission would force any clearinghouse considered important to the EU financial system to accept direct oversight from the bloc and, if requested, relocate to inside the EU. One report suggests that losing the market could cost the country 83,000 jobs, mostly in London, one of the world's top finance hubs.
Tech Bounce: U.S. tech stocks bounced back but still are below last week's record-high prices. Facebook rose 1.5 percent to USD $150.68 while Microsoft gained 1.2 percent to USD $70.65. Hard drive maker Western Digital added 3.9 percent to USD $90.05. Even after their recent skid, technology companies have done much better than the rest of the market in 2017. Big tech companies like Apple and Alphabet have been responsible for a huge portion of the stock market's gains this year.
Energy: Benchmark U.S. crude fell 46 cents to USD $46.00 per barrel in electronic trading on the New York Mercantile Exchange. The contract gained 38 cents on Tuesday to USD $46.46 a barrel. Brent crude, used to price international oils, shed 42 cents to USD $48.30 in London. It gained 57 cents the previous session.
Currency: The dollar declined to 110.02 yen from Tuesday's 110.04 yen. The euro gained to USD $1.1250 from USD $1.1205.
Story: Joe McDonald