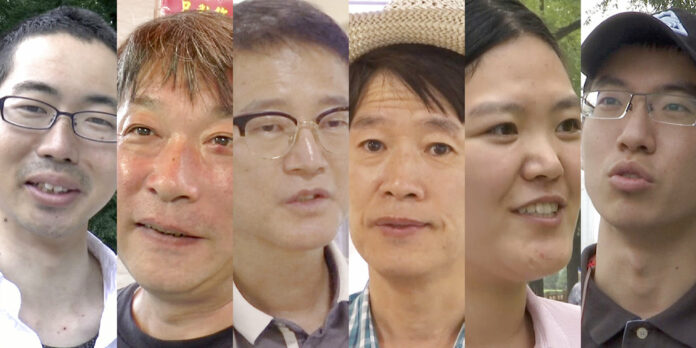 BEIJING — Tensions are swirling as North Korea and President Donald Trump exchange threats over Pyongyang's nuclear and missile programs, leading to fears in east Asia of a possible armed conflict.
Last week, North Korea said it was drawing up plans to launch missiles into waters near the U.S. territory of Guam, and Trump promised "fire and fury" if the North continues to threaten America. Since then, North Korean leader Kim Jong Un has said he is holding off on the missile test, a move welcomed by Trump. Still, it's unclear how the North will respond next week, when the U.S. and South Korea are set to begin annual joint military exercises that Pyongyang detests.
Public anxiety is rising in Japan and South Korea, U.S. allies who lie most directly in the North's line of fire, and China, North Korea's economic backer and former close ally, has expressed growing alarm.
Here is a selection of views from ordinary people in east Asia about who is to blame for the current tensions and what should be done to ensure war does not break out.
---
SHOGO AOKI, a Japanese researcher, says that by threatening North Korea, Trump is putting America's interests first and appears to be overlooking countries most directly threatened by the North.
"I think (Trump) is thinking that this won't result in any deaths back home, and if a war happens it will be far from home," said Aoki. "Whether or not he's thinking about other countries — Japan or Korea — well, that's a mystery."
"In the worst-case scenario, a missile could drop on Japan, and I am very worried about that," he said. But if Japan cooperates with countries surrounding North Korea and puts more pressure on the nation, "we could still lower the probability of something like a missile or a destructive situation from developing," Aoki said.
---
MASARU CHIBA, a Japanese salesman, said he hopes dialogue between the parties involved can head off a conflict.
"Most Japanese, including myself, hate war," said Chiba, 50, a native of Iwate on the northeastern coast of Japan's main island. "So I am praying it won't turn into one."
"If you just leave the situation to be dealt with by the United States, and a war started just like that, we in Japan would be quite scared," he said. "Of course Japan, China and South Korea and America should create a dialogue with North Korea, and I hope they will come up with a solution peacefully."
CHOI DONG-SAM, from Busan at the southern tip of the Korean Peninsula, said North Korea would bear ultimate responsibility for any conflict that breaks out, regardless of the circumstances.
"I am very concerned that a war might break out because of a pre-emptive strike on North Korea by the U.S.," said the 56-year-old South Korean.
"I think the blame is mostly on Kim Jong Un. If North Korea hadn't developed its nuclear program, we would not be in this current situation. I think that Kim Jong Un should take the initiative and remove the country's nuclear weapons so we can have peace on this land."
---
HEO KYUNG YON, from Pohang on South Korea's east coast, said Trump's personal self-regard was reflected in his approach to the region and was responsible for inflaming tensions.
"President Trump is arrogant to a large extent," said Heo, 61. "He is self-centered and selfish in a way, and this tendency is reflected in his policy which is geared toward solely pursuing America's profits. I think his policy could be seen as somewhat disregarding weak countries."
"It is without a doubt that the North's policy should undergo some changes, but Trump's policy is the determining factor in triggering this situation," said Heo.
---
MA HONGSHUO, a translator from the northeastern Chinese province of Heilongjiang, said fundamental differences in outlook between Pyongyang and Washington were playing out in the current tensions.
"The North Korean system itself is a bit closed, while at the same time the United States has always played by hegemonic and power politics, so I think this is a problem of both sides," said Ma, 26.
North Korean hopes for improving their quality of life would likely suffer if a way cannot be found out of the current impasse, she said: "I have some North Korean friends and sometimes they would say they wish their country would improve."
---
TIGER HAN, a student in China's capital, Beijing, said both sides bear responsibility for the tensions, which he said threaten to draw in other countries in the region.
"If the U.S. fleets come to this region, with further threats, and both sides have no space to retreat, then it would eventually turn into a regional conflict," said the 18-year-old.
"What worries me most is if the conflict gets bigger, it would be harder to resolve."
Han said that both sides are equally to blame, with the U.S. seeking to maintain its influence in the region.
"I think they might have an ulterior motive in mind. There may be some motives that are directed toward China," said Han, reflecting a common sentiment among the Chinese public, officials and state media.
Story: Louise Watt
AP video journalists Kim Jung Yoon in Seoul, South Korea, Emily Wang in Beijing and Sherry Zheng in Tokyo contributed to this report.