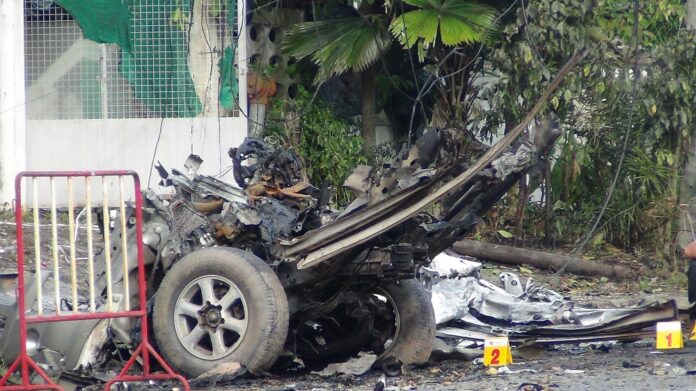 PATTANI — One of five vehicles stolen the day before in a brazen raid exploded early Thursday morning at a police station in Pattani province after a hostage taken by the gunmen was shot to death.
At about 4am, a pickup truck exploded in front of the Mayo Police Station in Pattani province. No one was killed or injured, according to station chief Col. Ekkachai Wichien.
National police chief Chakthip Chaijinda described the perpetrators as belonging to "groups which cause chaos," a euphemism commonly employed to describe southern separatists.
Ekkachai said the vehicle was one of five stolen from a dealership Wednesday in Songkhla's Na Tawee district by a group of armed militants who also kidnapped four men including the owner.
Owner Thaneesak Yeecheen, Weerasak Ratpan, Saharat Laeni and Pratanporn Nuanlamoon were taken to a location in Songkhla's Thepha district where police believe they were to be executed. Saharat was shot in the head and later died at a hospital. Pratanporn was shot in the right shoulder and badly injured. Thaneesak and Weerasak escaped and sought help from police.
Read: Hunt on After Trucks Stolen, Staff Killed at Deep South Dealership
The perpetrators drove over the border into Pattani's Nong Chik district with police in pursuit. A shootout took place, and one suspect in one of the trucks was shot to death, according to Col. Thompong Petchpirun of Nong Chik police. He was identified as Nurhasan Arwear, a 23-year-old madrasa student in Pattani. They found 80 kilograms of explosives and seven fuel tanks inside the vehicle he was driving.
Car bombs are a preferred weapon and tactic of separatist militants in the southernmost border provinces, where a violent insurgency has seethed without interruption for over a dozen years.
Later, at about 2:30pm yesterday, one of the stolen trucks exploded on the main Pattani-Betong Highway. Nobody was hurt in the blast.
Two stolen trucks were later found abandoned during the escape. One Isuzu truck was found parked in a rubber tree plantation in Pattani's Khok Pho district. Police searched the car and didn't find any explosive material. A Mitsubishi ran out of gas and was found on Highway No. 42.
Related stories:
Hunt on After Trucks Stolen, Staff Killed at Deep South Dealership