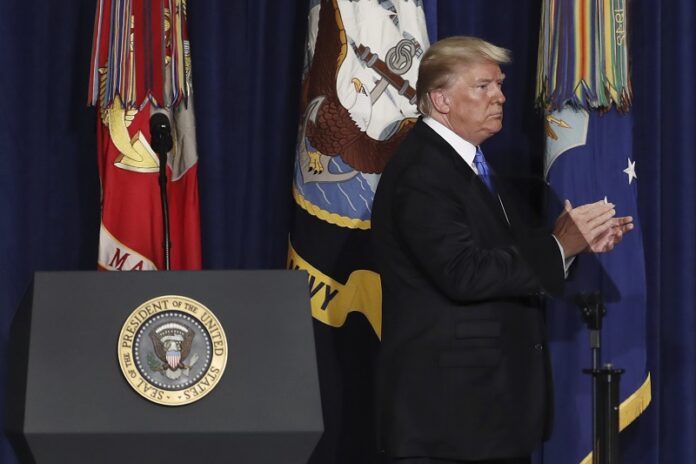 WASHINGTON — Laying out his new Afghanistan war strategy, President Donald Trump reissued old demands on neighboring Pakistan to eliminate militant sanctuaries. Less expected: an entirely new warning to close U.S. partner India to provide more economic aid.
Much of Trump's eagerly awaited address on turning around the nation's longest war sounded familiar, not least the need for Pakistan to crack down on Taliban fighters hiding across Afghanistan's borders. Washington has clamored for greater Pakistani action for years.
More surprising was Trump's blunt challenge to India and how he linked Afghanistan's economic revitalization to totally separate U.S.-Indian trade matters.
"We appreciate India's important contributions to stability in Afghanistan, but India makes billions of dollars in trade with the United States, and we want them to help us more with Afghanistan, especially in the area of economic assistance and development," Trump said.
He didn't elaborate, but the threat was clear, especially given Trump's regular chafing over countries enjoying significant trade surpluses with the United States. Either India must pony up more money for what the Trump administration is calling its "regional approach" to Afghanistan, or it could face commercial repercussions.
The U.S. deficit in goods and services with India last year was about USD $30 billion. Trump also is reviewing a work visa program heavily used by Indians.
Such trade threats might be new to India, but Trump has employed them similarly with China. He has linked decisions on whether Beijing is a currency manipulator or a trade rules violator to how strongly its government pressures North Korea over its nuclear program.
Trump's remarks on trade could irk India, which also has suffered attacks by Pakistan-based militants and sees itself as a natural counterterrorism ally of the United States. And they come less than two months after Prime Minister Narendra Modi was warmly welcomed at the White House as a key strategic partner, with the two leaders exchanging hugs and declaring their shared interest in bringing stability to Afghanistan.
India has provided USD $3 billion in aid to Afghanistan since 2001.
"I imagine his cutting reference to the trade deficit with India will leave a bit of a sour taste in the mouth of New Delhi, which otherwise was likely quite content with Trump's speech," said Michael Kugelman, a South Asia expert at the Wilson Center think tank.
Indeed, Trump had far sharper words for Pakistan, India's long-time rival. The two countries are locked in a decades-old dispute over the territory of Kashmir. Each has nuclear weapons.
Trump said it was time for Pakistan "to demonstrate its commitment to civilization, order, and to peace" after benefiting from billions in U.S. counterterrorism funds since the Sept. 11, 2001, attacks.
"But Pakistan has also sheltered the same organizations that try every single day to kill our people," Trump said. "We have been paying Pakistan billions and billions of dollars at the same time they are housing the very terrorists that we are fighting."
Trump said America's patience was over: "That will change immediately. No partnership can survive a country's harboring of militants and terrorists who target U.S. service members and officials."