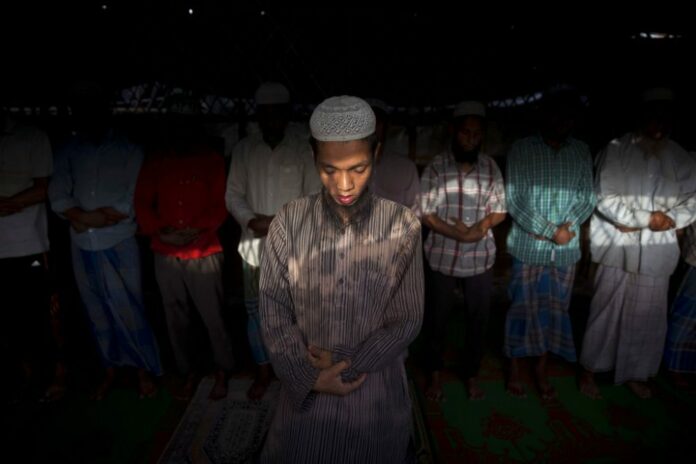 YANGON — Muslim militants armed with guns and machetes attacked Myanmar security forces at several police and border outposts overnight in a troubled western state, with 25 deaths confirmed in the clashes so far, police said Friday.
The attacks that began after midnight occurred a few hours after the Rakhine Advisory Commission led by former U.N. Secretary-General Kofi Annan submitted its final report recommending the Myanmar government act quickly to improve economic development and social justice in Rakhine state to resolve communal violence between Buddhists and the Rohingya Muslim minority.
The office of the nation's leader Aung San Suu Kyi said on its Facebook page that the attacks were intended to coincide with the release of Annan's report.
Local police said the simultaneous attacks targeted at least 26 outposts of the police, border guard police and security forces in northern Rakhine. Suu Kyi's office said in a later Facebook post that eight police officers and one immigration officer had been killed and that police had discovered 16 militants' bodies.
One border guard police officer said two officers from his outpost of Taung Pasa village had been killed. "More than 150 Muslim attackers were surrounding our outpost with machetes and guns," said the officer, Htun Naing.
Suu Kyi's office also said some weapons had been taken from the police in the attacks.
Last October, the army launched counterinsurgency operations in Rohingya areas of the state after the killing of nine border guards by insurgents described by the government as terrorists. U.N. human rights investigators and independent rights organizations charge that soldiers and police killed and raped civilians and burned down more than 1,000 homes during the operations. Since then, there have been signs of an increased Rohingya insurgency, threatening to accelerate a cycle of repression and resistance.
The Rohingya have long faced severe discrimination in Buddhist-majority Myanmar and were the targets of inter-communal violence in 2012 that killed hundreds and drove about 140,000 people — predominantly Rohingya — from their homes to camps for the internally displaced, where most remain.
According to the United Nations, more than 80,000 Rohingya have fled to neighboring Bangladesh since last October.
The Rakhine Commission, established in August 2016 at Suu Kyi's behest, said the situation in Rakhine state is becoming more precarious and requires a sustained and coordinated effort by civilian and military authorities. The commission has six members from Myanmar and three foreigners, including Annan.
"Unless concerted action led by the government and aided by all sectors of the government and society is taken soon, we risk the return of another cycle of violence and radicalization, which will further deepen the chronic poverty that afflicts Rakhine state," Annan said at a news conference in Yangon to present the report.
Story: Esther Htusan