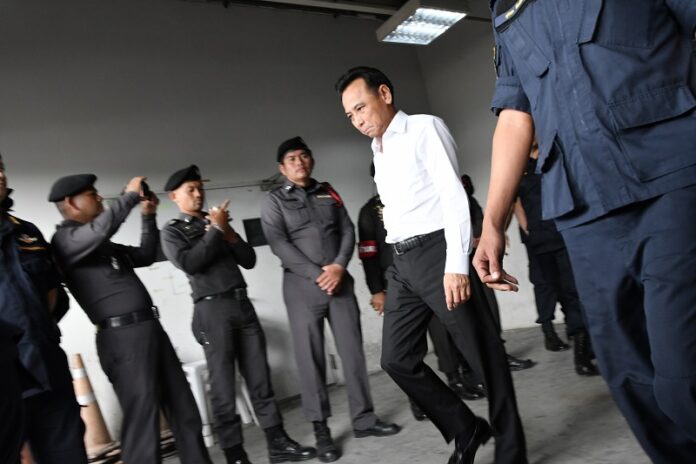 BANGKOK — While Friday was dominated by the vanishing act of his former boss, former commerce minister Boonsong Teriyapirom was sent to jail Friday on a 42-year sentence handed down by the Supreme Court.
Boonsong was sentenced for conspiring with officials and businessmen in a fraudulent export deal with unauthorized Chinese state firms to resell rice bought from farmers under an agricultural subsidy program. Despite being passed off as a government-to-government transaction to skirt transparency and open bidding, the rice ended up in the hands of domestic rice sellers.
The case was a key part of another trial due to return a verdict today: that of former Prime Minister Yingluck, who was accused for turning a blind eye to the large scale corruption.
Read: Former Yingluck Govt Officials Impeached Over Rice Corruption
Poom Sarapol, Boonsong's No. 2, was also sentenced to 36 years in prison. A total of 28 defendants were on trial in the case. Eight were acquitted, two fled justice and the rest were convicted and given varying sentences.
Apichart Chansakulporn, an executive with rice trading firm Siam Indica Co. Ltd, which resold the rice to domestic sellers, was sentenced to 48 years in jail. He, his company and co-defendant Nimon Rakdee were ordered to pay 16 billion baht in compensation to the Finance Ministry.
The Supreme Court said the four government-to-government deals made in 2011 and 2012 were made with state companies in Chinese provinces which were not authorized to represent Beijing. The deals allowed them to buy rice from Thailand at below-market prices.
Evidence later showed that Siam Indica resold the rice back into the domestic market. They were accused of violating two anti-corruption statutes: the 1999 Price Rigging in Public Sector Contract Bidding and a 1999 anti-corruption law called the Organic Act on Counter Corruption.
In September 2016, the Anti-Money Laundering Office ordered over 7 billion baht in assets seized from Siam Indica, Apichart and his network after they were indicted by the National Anti-Corruption Commission.
Apichart was known to have close ties to exiled former Prime Minister Thaksin Shinawatra. A previous firm he led won the right to sell rice from a rice-pledging program under Thaksin's administration.
Lawyers for the defendants said they would seek release on bail while they appeal the convictions.