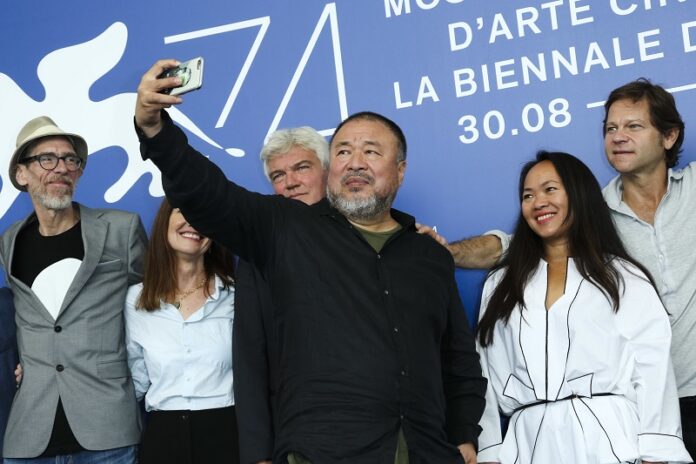 VENICE, Italy — The United Nations says there are 65 million forcibly displaced people around the world – a number so huge it can be overwhelming to contemplate.
Artist Ai Weiwei wants to make viewers see both the scale of the crisis and the humanity of the migrants with his documentary "Human Flow," premiering Friday at the Venice Film Festival.
The film, one of 21 competing for the festival's Golden Lion prize, draws on a deep empathy with his subjects – one the artist came to through direct experience.
"It's in my blood," said Ai, who spent his childhood in a remote Chinese community after his poet father was exiled by the country's Communist authorities.
"I was born when my father was a refugee," the artist said Friday. "I understood how low humanity can go from (when I was) very, very young, and how wrong things can go."
"I feel I am part of it," he said of the migrant crisis. "I know them so well. They are part of me."
Many other people feel detached and powerless when faced with images of migrants making perilous journeys by land and sea. Ai says that is due in part to news reports, which inform people but can also dull the senses.
"Because you feel, 'This is senseless,'" Ai told The Associated Press in Venice. "Then you shut off because the crisis is getting too big, you cannot do anything about it.
"That is the most dangerous moment."
The 60-year-old Ai is one of the world's most successful artists, famous around the world for his installations of bicycles and sunflower seeds. In his native China, he was alternately encouraged, tolerated and harassed, spending time in detention and being barred for years from leaving the country.
Now based in Berlin, Ai frequently draws on images of flight and exile for his work. And he often thinks big: Last year, he wrapped the columns of the German capital's Konzerthaus in thousands of orange life jackets left behind by migrants on the Greek island of Lesbos.
"Human Flow" is on an even larger scale.
Ai's team of around 200 crew members traveled to 23 countries and territories, visiting Syrian refugees in Jordan and Lebanon, Rohingya from Myanmar in Bangladesh, Afghan refugees returning home from exile in Pakistan and Mexicans on the border with the U.S.
The film also follows the route taken by more than 1 million people since 2015, across the Aegean Sea to Greece and then by land through Europe. Some in the film are halted by police and barbed wire at borders, while others make it to a reception center in Germany, or head for the English Channel in hope of getting to Britain.
Ai wanders through the film as a compassionate observer, taking pictures on his phone, talking to people and even cutting one man's hair. Interspersed with those scenes are aerial shots that turn teeming crowds into almost abstract tableaux.
"With this kind of tragedy you are trying to find a language to deal with this large topic," Ai said.
"Sometimes my iPhone has to touch the (person's) face or drop in the water. Sometimes you have to use drones to capture this kind of mass of meaningless humans, like ants."
Ai said he wanted to avoid traditional movie structures such as following one character along their journey.
"I wanted the film to be chaotic, in a way," he said.
The film's high-profile slot at Venice, where it's the only documentary in the main competition, should help it reach a broad audience, as should a release by Amazon in the U.S. this fall.
Ai said he hoped politicians would see the film, and resolve "not to just avoid the situation, not just to build borders, not just to say 'them' and 'us' but rather to see we are all as one."
"History tells us we have to sit down and come up with the best solution," Ai said. "And I believe this is a possibility, because all policies are designed by human beings, and deep in our hearts we have this compassion and we have the ability to make something nicer for each other."
Story: Jill Lawless