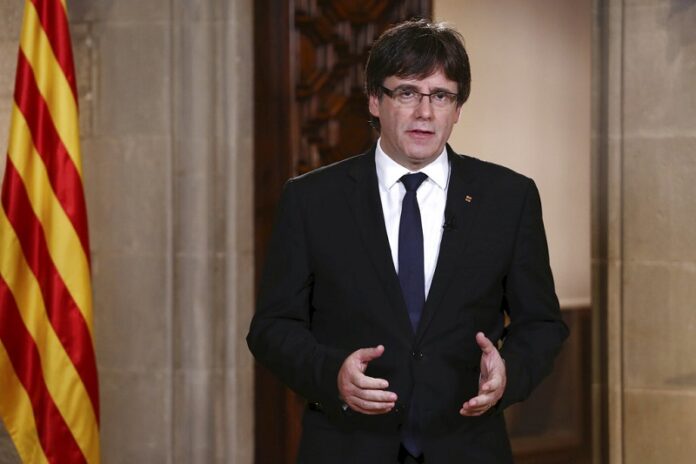 BARCELONA, Spain — Catalonia's regional government on Wednesday mulled when to declare the region's independence from Spain, with some lawmakers saying it would happen Monday. Spanish stocks sank as the country grappled with its most serious national crisis in decades.
Catalan president Carles Puigdemont again urged the government to accept mediation in the political deadlock between Spain's authorities and the leaders of the wealthy northeastern region of some 7.5 million.
The yearslong tension peaked on Sunday when police used force to disperse voters in a referendum that Spain's Constitutional Court had ordered shelves while assessing its legality.
Politicians in other parts of Spain and a handful of civil groups have offered to try to bridge the divide between the two sides, but Prime Minister Mariano Rajoy says no dialogue can take place outside of the country's constitution, which doesn't include provisions for a region to secede.
"Mr. Puigdemont has been outside of the law for way too long," Rajoy's deputy, Soraya Saenz de Santamaria, said, responding to the remarks Puigdemont made in a televised address late on Wednesday.
European leaders have sided with Spain and, amid fears that Catalonia's secession bid could find echoes elsewhere on the continent, the European Union has so far refused to step in.
European Commission Vice President Frans Timmermans stressed on Wednesday the need for Spain and Catalonia to talk with each other, but said there is a "general consensus that regional government of Catalonia has chosen to ignore the law when organizing the referendum."
Puigdemont will address the regional parliament Monday to review the disputed vote – a session that his parliamentary supporters in the radical CUP group say they will consider the independence declaration.
"We held the referendum amid unprecedented repression and in the following days we will show our best face to apply the results of the referendum," Puigdemont said on Wednesday.
His televised address mirrored a speech 24 hours earlier by Spanish King Felipe VI.
Accusing him of following Rajoy's "catastrophic" policies toward Catalonia, Puigdemont addressed the king directly, telling him: "You have disappointed many Catalans."
Rajoy's conservative government has declared the referendum illegal and invalid, and pledged to respond with "all necessary measures" to counter Catalan defiance, without revealing how it intends to do so.
Led by losses for the two main Catalan banks, Spain's main stock market index lost almost 3 percentage points in Wednesday's trading amid uncertainty over how the secession bid will proceed.
Other Spanish banks, telecommunications giant Telelefonica, fashion retailer Inditex and leading energy companies Repsol, Iberdrola and Gas Natural also suffered significant losses.
The crisis in Spain became Sunday when some 900 people needed medical attention after police cracked down to try to prevent the vote. Over 400 police also had bruises. On Tuesday, huge crowds held street protests in Catalonia, and unions staged a strike to protest the police's actions.
It's anybody's guess what might happen if the prosperous northeastern region does actually try to secede. Spain could intervene to take over the regional government; it could even declare a state of emergency and impose martial law.
In a nationally televised address Tuesday night, King Felipe VI came out strongly against Catalan authorities, criticizing their "irresponsible conduct." The Spanish state, he went on, needed to ensure constitutional order and the rule of law in Catalonia, the richest region of Spain.
Catalan authorities say some 2.3 million people – less than half the region's electorate – voted in the referendum Sunday. Many of those opposed to independence are thought to have stayed at home after the referendum was ordered suspended by a Spanish court. Of those who voted, some 90 percent backed independence, according to Catalan officials.
The route to becoming independent won't be easy for Catalonia. The region doesn't have any power over defense, foreign affairs, taxes, ports or airports, all of which are in the hands of the Madrid government. The European Union has also said that an independent Catalonia cannot stay in the bloc, but must apply to join – a lengthy, uncertain process.
Xavier Garcia Albiol, the top politician in Catalonia of Spain's governing party, called Wednesday for Catalans who want to stay inside Spain to join a rally Sunday in Barcelona, the region's main city.
Spain's National Court, meanwhile, said it will quiz two senior officers of Catalonia's regional police force and the leaders of two pro-independence civic groups who have been placed under investigation for sedition.
It said the four will be questioned Friday about their roles in demonstrations Sept. 20-21 in Barcelona, when Spanish police arrested several Catalan government officials and raided offices in a crackdown on preparations for the referendum. Spanish authorities say the demonstrations hindered the police operation.
The four include regional police chief Josep Lluis Trapero and Jordi Sanchez, the head of the Catalan National Assembly that has been the main civic group behind the independence movement.
Story: Aritz Parra, Ciaran Giles