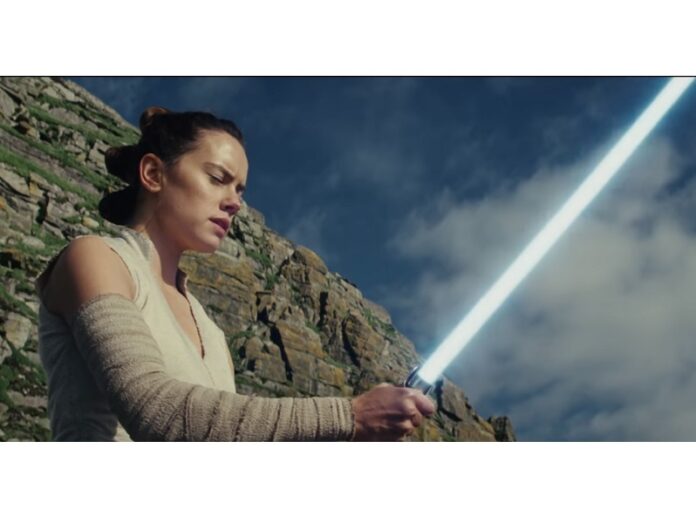 NEW YORK — With glowing reviews from critics and USD$450.8 million (14.8 billion baht) of worldwide box office in the first three days of release of "The Last Jedi," all would seem to be right in the "Star Wars" universe.
But some audience reaction metrics suggest not all Star Wars fans are so thrilled with Rian Johnson's eighth episode in the franchise. While "The Last Jedi" sports a sterling 93 percent fresh Rotten Tomatoes score, the website's users give it only a 56 percent score. A similar dichotomy is also found on the movie review aggregation website Metacritic, where the movie has a score of 86 out of 100 from critics but earned a woeful 4.9 out of 10 from users.
The role reversal between critics and fans has caused consternation throughout the Star Wars galaxy. Could "The Last Jedi" be a critical smash and a dud with audiences? Is "The Last Jedi" more "Attack of the Clones" than "The Empire Strikes Back"? What in the name of midi-chlorians is going on here?
For starters, the responses on Rotten Tomatoes and Metacritic are to be taken with a Death Star-sized grain of salt. They're supplied by users to the website who can, by creating numerous accounts, vote limitlessly, and need offer no proof of having actually seen the movie. Some believe a nefarious plot is at play, a theory backed up by the boasts of a few on social media. Similar ploys, after all, were used against the female-led "Ghostbusters."
But why would anyone want to sabotage "The Last Jedi"? Well, there have been growing signs of rebellion against the galaxy far, far away. Some conservative moviegoers have taken issue with the current trilogy's embrace of multiculturalism. Claiming an anti-Donald Trump agenda, some called for a boycott of last year's spinoff "Rogue One." Writer Chris Weitz noted the Empire "is a white supremacist (human) organization."
Politics have always played a role in "Star Wars." George Lucas has said he wrote it as a Nixon-era parable for the Vietnam War, about how democracies turn into dictatorships. But in carrying those themes forward to today, "The Last Jedi" has — like virtually everything else — been fed into America's combustible politics. Even Luke Skywalker (Mark Hamill) has volleyed with Texas Senator Ted Cruz on Twitter over net neutrality.
"Similar to other movie sites, we're currently experiencing a high volume of fan activity around 'Star Wars: The Last Jedi,'" said Rotten Tomaotes spokesman Tiyson Reynolds. "We're closely monitoring all user review activity to make sure it's valid."
But their low ratings don't jive with other, more scientific data.
Like "The Force Awakens," "The Last Jedi" won an A CinemaScore, which polls audiences coming out of theaters. CinemaScore counted feedback as 89 percent positive. ComScore's PostTrak audience survey recorded an average five-out-five star rating from moviegoers, with 80 percent saying they would definitely recommend the film.
And then there's the mammoth box office. With $220 million in domestic ticket sales, "The Last Jedi" now ranks as the second highest grossing opening weekend of all time, after J.J. Abrams' "The Force Awakens." Disney's distribution chief Dave Hollis estimates "The Last Jedi" will have legs through the holiday season similar or close to those of "The Force Awakens," which ultimately grossed more than $2 billion worldwide. "The Last Jedi" is likely to eventually rank among the highest grossing films of all time, but it will depend on strong word-of-mouth and repeat viewings to sniff the realm of "The Force Awakens" or "Titanic."
Yet regardless of any user scores, "The Last Jedi" has proved to be easily the most divisive "Star Wars" film. (Lucas' second trilogy was too universally panned to be much argued over.)
Even many fans who generally applauded the film have taken issue with its comic flashes, a Princess Leia moment roundly compared to Mary Poppins, and of the film's treatment of Hamill's Skywalker. (Cantankerous and ornery, he spends most of the film on an isolated island.) And by shifting the parameters for how the Force works, some have said "The Last Jedi" is, as Variety claimed,"making stuff up as it goes along."
For its part, Disney has sensed the tremors of backlash.
"Rian Johnson, the cast, Lucasfilm, they've delivered an experience that is totally 'Star Wars' but at the same time is filled with things that are unexpected and new," said Hollis. "And in that unexpected and new, it's going to have people really talking."
Even the cast of "The Last Jedi" acknowledged they were surprised by the direction mapped out by Johnson, who wrote and directed. "What Rian came up with, I was stunned," Hamill told The Associated Press earlier this year. Said Daisy Ridley of first reading the script: "I was going, 'Uh, I'm not sure about this. It just took us all a second to be like, 'OK, this is where the story is heading."
But Johnson made "The Last Jedi" disruptive by design.
"Having been a Star Wars fan myself for the past 40 years, I know intimately how passionate they are about it and how everyone has stuff they love and hate in every single movie," said Johnson. "That takes the pressure off a little bit just thinking, 'Ok, there's going to be stuff that everyone likes, there's going to be stuff that people don't like and it's going to be a mixture.'"
Story: Jake Coyle