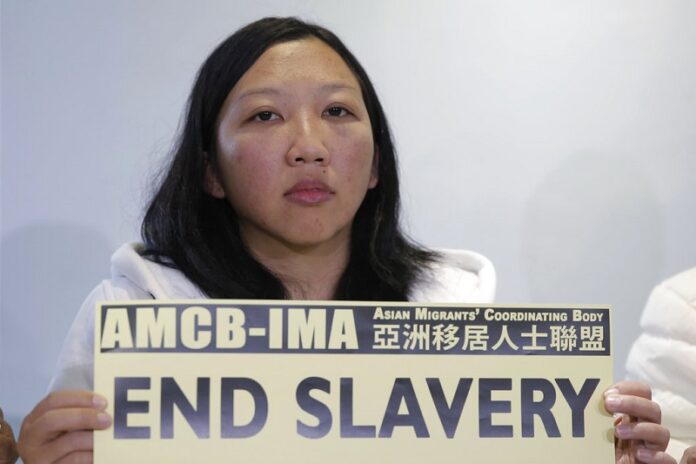 HONG KONG — An Indonesian maid who won a civil case this week against her former Hong Kong employer for shocking physical abuse said Friday she's happy with the result but urged the city to do more to help foreign maids.
Erwiana Sulistyaningsih said authorities aren't doing enough to protect the southern Chinese financial center's army of foreign domestic workers, most of whom are women from either Indonesia or the Philippines.
A Hong Kong court ordered Sulistyaningsih's former employer to pay her nearly 810,000 Hong Kong dollars (USD $103,500) in damages for the abuse, which occurred over eight months starting in 2013.
The employer, mother of two Law Wan-tung, was earlier convicted on assault and other charges, fined and given a six-year prison term.
The case came to light when graphic pictures of Sulistyaningsih's injuries started circulating among Hong Kong's Indonesian community showing her face, hands and legs covered with scabs and lacerations and blackened, peeling skin around her feet.
Sulistyaningsih said that since her case she had met with many other foreign maids who were mistreated by the families they work for.
"Still the employers give long working hours," she said at a news conference. "Other victim also tell me their stories. Like they weren't given enough food, they didn't have holiday."
She urged the Hong Kong authorities to review current policies and practices, saying not enough is being done to protect workers.
Since her case came to light, she said, "I think nothing changed."
Story: Josie Wong