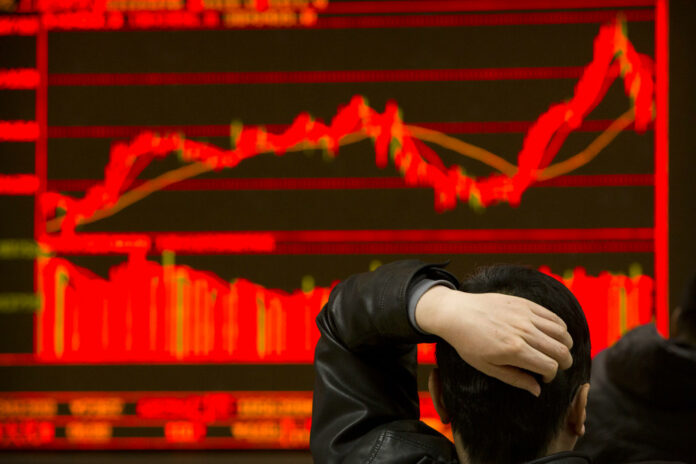 TOKYO — Asian shares have skidded following an overnight decline on Wall Street after Facebook reported its worst loss in four years. Investors are awaiting the first Federal Reserve meeting under the new chairman, Jerome Powell, and anticipating the first rate increase of the year.
Keeping Score: Japan's benchmark Nikkei 225 lost 0.7 percent in morning trading to 21,341.67. Australia's S&P/ASX 200 slipped 0.5 percent to 5,927.60, while South Korea's Kospi shed 0.3 percent to 2,468.35. Hong Kong's Hang Seng fell 0.5 percent to 31,340.22, while the Shanghai Composite edged 0.4 percent lower to 3,270.82.
Facebook Drop: The technology rout on Wall Street on Monday was set off by Facebook's worst loss in four years. The social media giant's plunge followed reports that Cambridge Analytica, a data mining firm working for President Donald Trump's campaign, improperly obtained data on 50 million Facebook users without their permission. Legislators in the U.S. and Europe criticized Facebook, and investors are wondering if companies like Facebook and Alphabet will face tighter regulation.
Wall Street: The S&P 500 index sank 1.4 percent to 2,712.92. The Dow Jones industrial average fell 1.3 percent to 24,610.91. The Nasdaq composite gave up 1.8 percent to 7,344.24 and the Russell 2000 index of smaller-company stocks declined 1 percent to 1,570.56.
Federal Reserve: The U.S. Federal Reserve's first meeting under Jerome Powell's leadership ends later this week, likely with an announcement that the Fed will resume modest interest rate hikes. A healthy U.S. job market and a relatively steady economy have given the Fed the confidence to think the economy can withstand further increases. And the financial markets have been edgy for weeks.
Energy: Benchmark U.S. crude rose 23 cents to USD$62.36 a barrel in electronic trading on the New York Mercantile Exchange. It lost 28 cents on Monday. Brent crude, used to price international oils, gained 21 cents to USD$62.26 per barrel in London.
Currencies: The dollar recovered to 106.23 yen from 105.92 yen late Monday. The euro rose to USD$1.2345 from USD$1.2267.