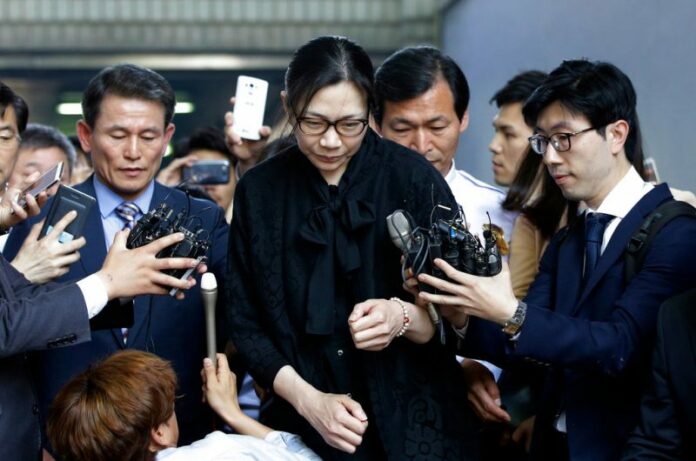 SEOUL — Korean Air Lines said Monday that two daughters of its chairman will resign from their executive positions amid mounting public criticism over the women's behavior and allegations that the family engaged in smuggling.
An official at the Korea Customs Service, meanwhile, confirmed that authorities raided the airline's headquarters in Seoul seeking evidence on alleged smuggling and tariff evasion.
Chairman Cho Yang-ho announced the resignation of his daughter Hyun-ah, who returned to leadership last month after a four-year hiatus following a "nut rage" scandal, and her younger sister Hyun-min, who is under investigation for allegedly hurling a cup of water at a business meeting.
"We are deeply sorry for upsetting the public and Korean Air employees with my family's problems," Cho said in a statement. "Everything is my fault. I apologize to the public."
Cho said Korean Air will create a new management position to hire a senior manager outside the Cho family member and establish a compliance committee.
A former Constitutional Court judge will head the committee to beef up internal oversight, the flag carrier said.
Hyun-ah achieved worldwide notoriety after she had an on-board tantrum in 2014 when a first class flight attendant served her nuts in a bag instead of on a dish.
Cho was the head of the airline's cabin service at the time. The plane was forced to return to the gate at New York's John F. Kennedy Airport.
She was released from jail after South Korea's appeals court suspended her prison term for coercion and obstruction of business.
Her sister, who is also known as Emily Cho, oversaw the company's marketing and commercials. She apologized on Facebook for allegedly throwing the cup of water at an ad agency official during a meeting.
South Korean media reports have cited anonymous tips from airline employees that the Cho family smuggled foreign goods into South Korea by disguising them as corporate assets.
A Korean Air spokesman said the family is fully cooperating with the investigation.
The Cho family's troubles angered many South Koreans who resent abuses of power by elite families connected to many of the country's biggest publicly listed businesses.
Such family-run conglomerates dominate the South Korean economy.
The families and their companies are facing growing pressure for stricter oversight and more transparency in corporate governance.
Story: Youkyung Lee