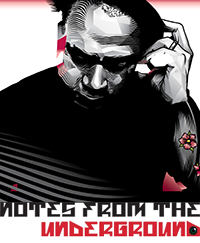 It was only in the mid-2000s that Mark Lawrence – then a relatively unknown producer – gained worldwide fame as a South London dubstep icon.
His catapult to fame came in 2006 when, Lawrence, aka Mala, released "Anti War Dub," a track many consider one of dubstep's most iconic tracks. Not for its message of peace or appearing in "Children of Men," but because the pioneering track saw the genre go within a couple of years from a small underground scene to global phenomenon.
Despite this, Mala remains humble.
I had the privilege interviewing the man himself, considered one of the godfathers of the dubstep scene. He'll also headline my Friday event, the Dubway Sessions 10 year anniversary.
In 2011, while in Cuba recording new material for a new album, Mala says he and legendary British DJ Gilles Peterson were invited to DJ at a house party. When a guy asked to get on, Mala thought he'd take the mic to MC, but instead pulled out a trumpet and started jamming to the DJ's dubstep track "Lean Forward."
Mala and Peterson were so impressed that they asked him to collaborate with their 2012 "Mala in Cuba" album, released on Gilles Peterson's Brownswood Recordings imprint.
But this wasn't smooth sailing for Mala. While he stepped out of his comfort zone by making bass-heavy beats and finding inspiration in Cuban and Peruvian music, his trumpet adventure and 2016 album "Mirrors" were met with mixed reviews.
Today, when he's not releasing tracks under his moniker, Lawrence and studio compadre, Dean Harris, or Coki, are dubstep supergroup Digital Mystikz. Mala also runs Deep Medi, a top tier dubstep record label which to date has launched the careers of producers such as Goth Trad and Gantz.
On Friday, Mala touches down in Bangkok to drop his dubstep. But before the show, I had a chat with him about vinyl, American bro step music and his expertise working on albums.
Mongkorn Timkul: You're one of the few DJs that still use vinyl. What do you like about it?
Mala: So when it comes to making music there's always something about having the vinyl, in the lineage of music that I'm from which is soundsystem culture. In the '60s, '70s and '80s people that came from the caribbean brought soundsystem culture and music with them.
When I look back on my history and influences (soundsystem culture) that's really my lineage so for me to cut dubplates and play music that nobody's got is second nature. Looking back on it now, it's very much part of who I am. And with the music that I make, playing vinyl gives it a slight feel and texture that I think suits my music more so than digital.
MT: Are vinyl sales on your label still doing well?
Mala: Vinyl sales are still going strong fortunately. Obviously the market is digitally driven this day and age. But we've been very lucky.
MT: How did you come up with the "Mala in Cuba" and "Mirrors" albums?
Mala: Basically my career has been focused around making 12-inch records, dubplates and music for sound systems. In 2011 I got a random phone call from Gilles Peterson, he said he was going to Cuba and was working on a project with some local musicians. He invited me to go to Cuba with him to make an album. There was something about Giles as a person and the offer that I couldn't let him down. I didn't want it to make a Cuban sounding record, because you know, I'm not cuban. But it was more about using the experience to inspire something original.
With "Mirrors" it wasn't like I wanted to make a Peruvian album or a dubstep album that sounded like Peru. I think I wanted to create something for myself. I think on both occasions I managed to do that.
MT: You must've had to step out of your comfort zone to produce those…
Mala: Yeah in a way not so much in creating music as such. I think the creative process should be that you should always be able to step out of your comfort zone and make something that's original for yourself. What was most challenging was the mindset that came from that process. I wanted to create something that they could be pleased that they were involved in, and that was the most pressure. I don't really sit down in the studio to make music to release, my mind doesn't work like that. I just make music that I like and if it works then I think about releasing it.
MT: Many would say dubstep went commercial when American "bro step" took off. Do you think that killed the dubstep scene?
Mala: I think if you ask many people this question you'd get a lot of different answers. My opinion is that if you put something out for people to watch or listen, then you have to be prepared for people to be inspired by it and create their own versions of it. I think this is a blessing more than a curse. So to say that people have taken something and ripped it off is in a way suggesting that you felt that music was yours in the first place. For me to see someone taking something from south London and play it in a stadium to me I think that's amazing. I have nothing but respect for anybody who wants to take the music and run off and do their own thing.
MT: With all the places you've been to around the world, how do you feel about the dubstep scene nowadays? Is it still happening?
Mala: The only people that say dubstep's not happening anymore are the people that fell out of love with it. (Laughs) When things were dying off, Deep Medi was growing. We were signing new artists and record sales were not dropping. Do you believe what you read online and in magazines and let that affect your mind?
But what you do – this is a test of your character. What are you about? If this is what you're about then you need to live and breathe it regardless.
Dubway Sessions 10th Anniversary Feat. Mala starts at 9pm on Friday at De Commune. Pre-sale tickets are 700 baht and can be purchased online. Only 100 tickets will be sold at the door, which will cost 900 baht and include one drink.