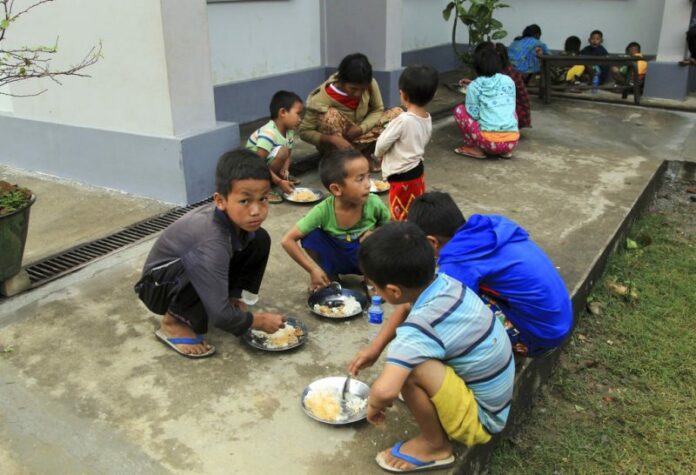 MYITKYINA — As the Myanmar army's bombs started falling near her home in Kachin state, Nlam Numrang Doi and her neighbors decided they had no choice but to grab what they could and scatter into the jungle.
"We were in so much trouble, I couldn't even swallow my food," the 92-year-old recalled. "If we stayed in the village, we didn't know what could happen to us."
She climbed onto her grandson's back and he carried her to a river where she and nearly 800 other villagers boarded boats to reach the state capital, part of a wave of 6,800 people who have fled their homes in Kachin since a fresh government offensive began in early April.
The onslaught is part of a decades-long government campaign to defeat Kachin rebels fighting for greater autonomy for the largely Christian minority group in Myanmar's far north.
The intensified offensive has renewed accusations that the army is creating a similar humanitarian crisis in Kachin to the one spawned by its violence against Rohingya Muslims in the country's west.
"What we are seeing in Kachin state over the past few weeks is wholly unacceptable, and must stop immediately," Yanghee Lee, the U.N.'s human rights expert for Myanmar, said last week. "Innocent civilians are being killed and injured, and hundreds of families are now fleeing for their lives."
"All parties must take all necessary measures to ensure their safety and security," she said.
A 17-year cease-fire between the government and Kachin Independence Army was broken in 2011, when the army entered rebel territory and attacked one of their outposts.
Since then, sporadic fierce combat has uprooted villagers and left hundreds of civilians dead.
The fresh exodus of villagers is adding to the 100,000 people previously displaced in Kachin and neighboring Shan state, many of whom live in camps where people already have difficulty obtaining food and clean water due to military restrictions on aid.
Gumsha Awng of the Joint Strategy Team for Humanitarian response, a coalition of humanitarian groups in Kachin, said the army has been blocking international aid shipments to the region, a similar tactic it used with the Rohingya.
The government has denied virtually all access to the area for the United Nations and international humanitarian groups.
Those fleeing their rural villages try to seek the relative safety of the state capital, Myitkyina, which is under government control, or rebel-held cities where they can seek aid from church groups.
Some who have fled, however, have found themselves stuck in a jungle no man's land unable to find a safe route out of the war zone.
One group of 2,000 villagers has been trapped in the jungle since mid-April without proper food, water, shelter and medical care, unable to get through army roadblocks to safer refuge.
Lamai Gum Ja of the Peace Talk Creation Group, comprising Kachin notables who attempt to mediate between the community and the army, said the military is intentionally blocking civilians from being rescued because they accuse them of having connections to the rebels.
Government spokesman Zaw Htay said the government has been helping with food, shelter and medical supplies and is working to "rescue any trapped civilians."
"We are hearing that the Kachin rebels have been pretending they're civilians and that's why we have to verify the civilians very carefully," he told The Associated Press on Tuesday.
There were hopes when Aung San Suu Kyi's civilian government took power in 2016 that there might be a greater chance for peace.
But Kachin support for Suu Kyi and her party has so far failed to pay any dividends, with the military still flexing its constitutionally ensured powers over security and border affairs.
Thousands of Kachins rallied in Myitkyina last week to demand humanitarian relief for those stuck in the jungles, and on Friday the central government-appointed state minister, Hkyet Awng, joined community leaders in a march to attempt to reach one group of trapped civilians. The military stopped them.
"Stopping the minister and Christian leaders from rescuing those civilians shows that the army is more powerful than the civilian government," said Lagang Zegyung, a lawmaker representing Kachin state. "The army controls everything, especially in the ethnic regions, which makes it almost impossible for us to help civilians in the conflict zone."
For those who do eventually reach safety, they often end up in church halls like the one at Trinity Baptist Church just outside Myitkyina. That's where Nlam Numrang Doi and her neighbors ended up after their escape by boat.
"Our small church is hosting nearly 800 people who had fled from their village and now the church is overcrowded with the elderly, children, pregnant women, widows and disabled people," said La Hkawng, a church pastor.
He said they are providing food and shelter and what medical care they can. But some of the wounds are unseen.
Heavily pregnant Htu Hkam Ndu said her two young children are traumatized by the fighting.
"My children are even scared of planes flying around, any kind of planes," she said. "My children keep telling me to flee every time they heard the sound of a plane flying. That's why when these children grow up, they will always remember what happened."
Story: Min Kyi Thein