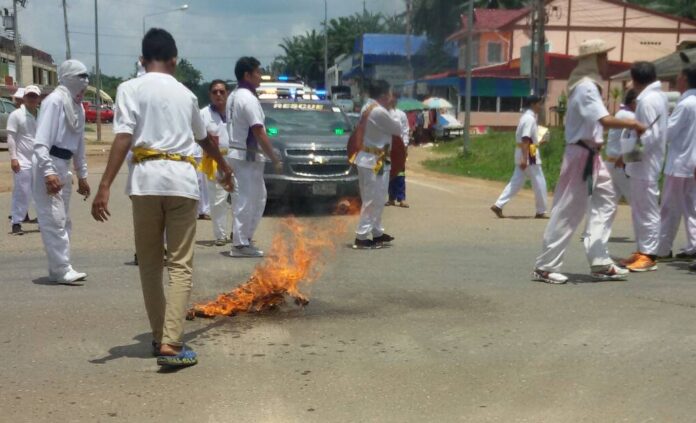 KRABI — While the latest crackdown on foreigners working illegally continues, another large-scale operation is underway in the southern region: finding and capturing errant souls.
Held every 30 years, the week-long festival sees Thai and foreign shamans scour the roads in Krabi and Nakhon Si provinces for the dislocated spirits of those who died in road accidents. Once they have lured the departed, a ceremony sends the captured souls to peace in the afterlife.
"We are summoning all the spirits along the roads where accidents took place,"
Jittiphum Chantachote, a coordinator of Tekka Jikung Foundation's chapter in Nakhon Si Thammarat.
Jittiphum's group is one of several rescue foundations of Chinese heritage to organize the hunt with assistance from counterparts in Malaysia. For the festival, which began Saturday and ends Sunday, white-clad mediums ride on pickup trucks and pause to burn Chinese "hell money" whenever they encounter paranormal activity. The flame is believed to compel the spirits into following the shamans. More than 600 ghosts were reportedly captured yesterday.
The highlight scheduled for Thursday. On that night, necromancers will parade around the city center of Nakhon Si Thammarat, after which hell money will be burnt in dedication to the spirits over the following days.
Tourists are welcome to observe the ceremonies, Jittiphum said.
Thailand is consistently ranked among the world's highest in road fatalities. In 2016, more than 22,000 people died in traffic accidents and 60,000 were left with disabilities, officials said.