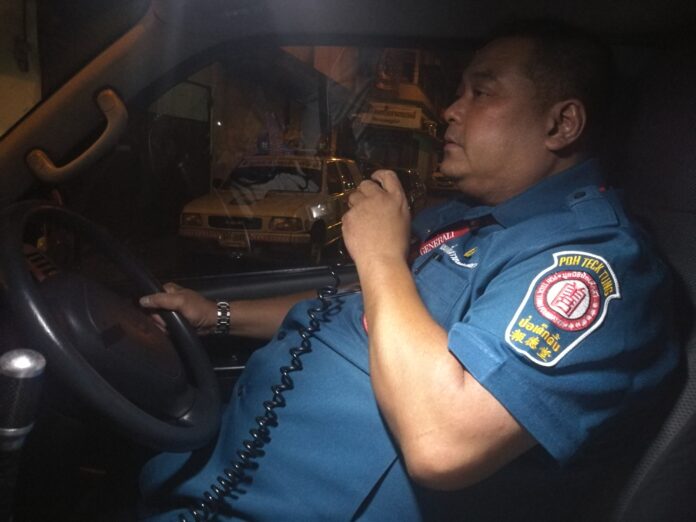 BANGKOK — Behind the wheel of a turbo Toyota van called the "flying pig" for speeds considered fast even by first responders, Isadar Sinthu-aree settles in for a long night's patrol of lower Bangkok.
He's the only full timer packed into the pig, along with five volunteers and a reporter for the second night of Songkran, a long holiday known for hedonistic revelry and excessive road fatalities. The seasonal accidents and violence that draws volunteer rescue teams can make for harrowing nights, but Saturday provided the other extreme – uneventful boredom.
What for many was a long holiday for the traditional New Year was work as usual for Isadar and his team. As for the boredom that descends on emptied-out Bangkok, Isadar said it's better than the alternative.
It's Saturday night, day five of what's dubbed the "seven dangerous days."  By midnight, 57 road deaths would be reported, a little higher than last year but below the decade high of 2016. By Sunday, government statistics showed 323 have died on the roads.
As a rule, rescue teams try to reach accident or crime scenes within 10 minutes of getting the call. With a guest in the vehicle for the evening, the 51-year-old driver took a lower gear than usual as he headed toward the southwestern outskirts of Phutthamonthon Sai 3 Road.
Poh Teck Tung was founded 107 years ago by Chinese migrants inspired by Tai Hong Kong, a monk legendary for helping the needy in southern China during the Song Dynasty.
It's one of two major rescue foundations in Bangkok. Poh Teck Tung forged an agreement decades ago with the other, Ruamkatanyu, to take turns looking after the northern and southern halves of Bangkok on a schedule that alternates every 24 hours.
On Saturday night, Isadar's foundation team had the south.
For them, the lull provided opportunity to reflect on all the calamity they've witnessed – and its causes.
Sunthorn Chomchit chatted with four fellow volunteers as they would do all night until dawn, or 7am to be precise.
"I once saw a deadly car accident in front of my eyes and was helpless," said Sunthorn, who does auto modification work, of how he got into doing three shifts weekly for the past two and a half decades.
He attributes the high road accidents and fatalities to people's lack of traffic discipline and the growing popularity of big motorcycles.
He reckons that 80 percent of the accidents in his area have to do with motorcycles.
After patrolling the southern edge of Bangkok for an hour with no major incidents, Isadar drives north to meet up with veteran emergency medical technician and colleague Phuthikornnan Wongumalee. The 42-year-old has parked his medic van at the southeastern corner of Lumphini Park.
It was nearly 10pm and Songkran festivities were about to end.
Phutthikornnan showed off his new gadget, an automated external defibrillator the foundation equipped his van with just two months ago.
Like elsewhere in lower Bangkok, it was a slow night. Apart from a few minor non-fatal accidents, the biggest incident was a dead body found across the DMZ in the northern half in Ruamkatanyu's jurisdiction. Though a slow and uneventful night, Phutthikornnan's mind was restless. He chewed on how Thailand could cut down on the stats that have earned it the distinction of having some of the highest road fatalities in the world.
He thinks all nightlife establishments should have breathalyzer machines so drinkers can know if they are too intoxicated to drive.
"The campaign to end drunk driving depends much on the conscience of motorists," he said.
He also observed that there are factors that increase road fatalities such as accidents involving large motorcycles tend to be fatal due to their speed and power.
First responders have to deal with more than just accidents. Brawling is another common source of calls, according to the medical technician.
He opined that Thai men have a penchant for harming strangers of the same gender who happen to look at them in the "wrong way" at pubs and bars.
"I observed a rise in such violence, the weapons used tend to become more deadly as well, such as knife or gun. We won't enter the scene until after the fight is over."
Asked how he makes sense of just trivial and senseless violence, Phuthikornnan reckons it stems from the desire to show they have power.
"The matter must be addressed by family and schools," he said.
Removing dead bodies is a normal duty and although they were spared from it Saturday, Phuthikornnan and Isadar offered advice on how to deal with the odor of a decomposing corpse: Breathe deeply and inhale it all in at once. They also refer to the foul odor euphemistically as a "good smell."
Both believe in ghosts but insist that as long as they are do-gooders, the spirits will not be malevolent to them.
Both men wear amulets with the image of Tai Hong Kong. They also wash their shirts separately from their trousers, underwear or other garments due to a belief that the shirt, printed with the foundation's Chinese emblem, is something to be kept pure and clean.
"We help these spirits. They have never bothered or came after me," Phuthikornnan said.
Soon after, Isadar left to inspect a heavy equipment rescue team in the Lat Krabang area. They have the big toys such as the "jaws of life" cutting machine used to rescue drivers and passengers trapped inside vehicles.
It was an uneventful night, something they would feel bad complaining about.
"There was no incident tonight. To beg for [something to happen], would be like placing a curse on people," said Isadar as he sped back toward his headquarters to spend the rest of the night monitoring events.