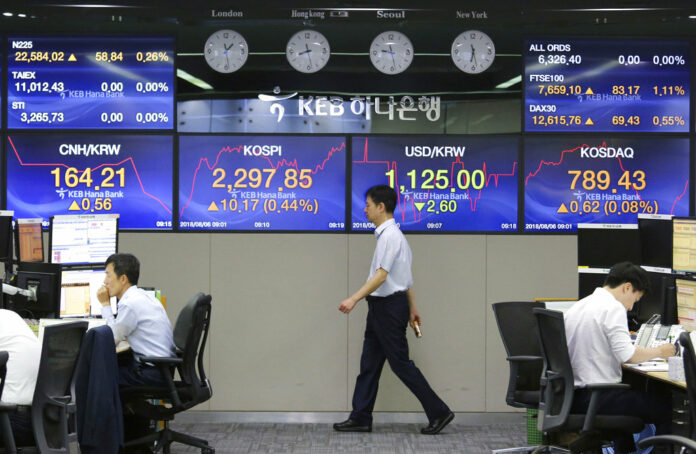 BEIJING — Asian stocks were mostly higher Monday, despite a new Chinese threat of tariff hikes on U.S. goods, after Washington reported solid employment numbers.
Keeping Score
Thailand's SET on Monday afternoon traded at 1,712.90, a 0.05 percent increase. The Shanghai Composite Index skidded 0.8 percent to 2,719.38 but Tokyo's Nikkei 225 added 0.2 percent to 22,560.99. Hong Kong's Hang Seng jumped 0.7 percent to 27,863.87 while South Korea's Kospi advanced 0.3 percent to 2,294.41. Sydney's S&P-ASX 200 gained 0.5 percent to 6,266.40. Benchmarks in Taiwan, New Zealand and Southeast Asia also rose.
Wall Street
Kraft Heinz climbed after the maker of Oscar Mayer meats and Jell-O pudding said improved sales in Europe and Asia helped offset weaker results from the U.S. and Canada. Cereal maker Post Holdings and video vame publisher Take-Two Interactive both climbed after reporting better-than-expected financial results. The Standard & Poor's 500 index rose 0.5 percent to 2,840.35. The Dow Jones Industrial Average gained 0.5 percent to 25,462.58. The Nasdaq composite rose 0.1 percent to 7,812.01.
US Jobs
The Labor Department said employers added fewer jobs in July than expected but more were added in May and June than previously reported. The bankruptcy of toy retailer Toys R Us and job cuts in local governments dragged down the totals. Hourly wage growth was modest in July. Inflation-adjusted wages are decreasing because inflation has gradually picked up.
Trade War
The Chinese government issued a USD$60 billion list of U.S. goods including semiconductors and industrial chemicals targeted for retaliation if Washington goes ahead with its latest tariff threat. The Finance Ministry said the charges, ranging from 5 percent to 25 percent, will take effect if the Trump administration goes ahead with plans to impose 25 percent duties on $200 billion of Chinese goods. The two sides already have raised tariffs on billions of dollars of each other's goods in a dispute over Beijing's technology policy.
China Currency
Regulators tightened controls on trading in China's yuan in a possible effort to stop its decline against the dollar. Traders were ordered to post a 20 percent deposit for contracts to buy or sell yuan, which raises the cost of betting it will fall further. The yuan has drifted lower against the dollar since February, which could help exporters that face higher U.S. tariffs but also raises the risk of capital flowing out of the economy. The central bank "had been largely tolerant" of the yuan's decline, but the latest changes "may have gathered concerns including capital flight," said Jingyi Pan of IG in a report.
Saudi-Canada
Saudi Arabia ordered the Canadian ambassador to leave the ultraconservative kingdom and said it would freeze "all new business" after criticism of its arrests of activists. Canada gets about 10 percent of its crude oil imports from Saudi Arabia. The dispute appears centered around a tweet by Global Affairs Canada calling on the kingdom to "immediately release" detained women's rights activists. Among those arrested is Samar Badawi, whose brother Raif Badawi was arrested in Saudi Arabia in 2012 and later sentenced to 1,000 lashes and 10 years in jail for criticizing clerics. His wife, Ensaf Haidar, lives in Canada.
Energy
Benchmark U.S. crude gained 34 cents to $68.83 per barrel in electronic trading on the New York Mercantile Exchange. The contract sank 47 cents on Friday to close at $68.49. Brent crude, used to price international oils, rose 40 cents to $73.61 in London. It lost 24 cents the previous session to $73.21.
Currency
The dollar declined to 111.33 yen from Friday's 111.26 yen. The euro edged down to $1.1563 from $1.1569.
Story: Joe McDonald