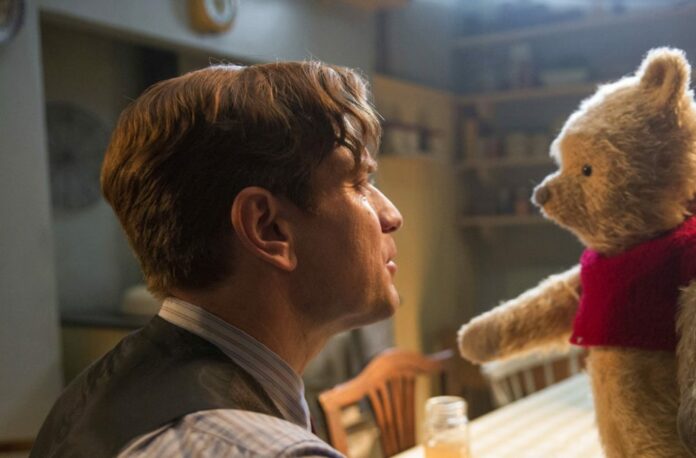 Oh, bother.
The misfortune of "Christopher Robin" is not only that it comes a year after "Goodbye Christopher Robin," an earnest if sentimental tale about Winnie-the-Pooh author A.A. Milne and his son, Christopher Robin Milne, but that it arrives a few months after the screwball radiance of "Paddington 2." When it comes to bears in London this movie year, our hearts are already spoken for.
But for those who prefer honey to marmalade, "Christopher Robin" is a more gentle and melancholic fable about recapturing the joys of childhood as an adult with the help of a wise and innocent bear. It's telling that in Marc Forster's comparatively somber but sweet movie, the standout of Milne's furry creatures — all of them rendered digitally as worn-out stuffed animals — is that old grump Eeyore (voiced by Brad Garrett), whose morose mutterings land nearly all the film's laughs.
Humor has never been the forte of Forster ("Finding Neverland," "Quantum of Solace"), so don't come to "Christopher Robin" expecting hijinks from Tigger or a single overstuffed bear stuck in a doorway. Instead Forster has fashioned a meticulously handsome post-WWII period drama — perhaps one more for adults than children — leaning much closer to "The Velveteen Rabbit" than Saturday morning cartoon.
There's a degree of atonement in the stylistic shift; the real Christopher Robin (never a fan of the books) lamented the Disneyfication of his father's characters and never accepted royalties. And as with Disney's 2106's "Pete's Dragon," there's an unlikely, largely indie collection of filmmakers behind a relatively modest live-action revival. Alex Ross Perry ("Listen Up Philip"), Tom McCarthy ("Spotlight") and Allison Schroeder ("Hidden Figures") wrote the script.
In the opening scenes in the fictional land of the Hundred Acre Wood, Pooh and the rest are giving young Christopher Robin a farewell party. "Don't you get all grow-ed up on us," Tigger tells him. But after a page-turning montage, Christopher Robin has indeed done just that. He's now a working, married man in London, wed to Evelyn (Haley Atwell), with a daughter named Madeline (Bronte Carmichael) and a grueling job. He's an efficiency manager for a luggage company housed in a towering gray building.
The demands of his work have drained all the fun out of Christopher Robin, whose middle name has been upgraded to surname. He hasn't so much as smiled in years, Evelyn says. But on a particularly crucial work weekend, out pops Pooh from a Hundred Acre Wood portal from the trunk of a tree outside Christopher's town house.
The voice is instantly recognizable (Pooh veteran Jim Cummings voices him, as well as Tigger) though the form is a little novel. Like the other characters, Pooh looks more a glassy-eyed teddy bear than he has before, and more frizzy than E.H. Shepard's illustrations. The digital effects impressively double for tangible, hand-hewn felt creations, but (aside from Owl) they crucially lack lively eyes.
That keeps the gang (there's also Piglet, Rabbit, Kanga and Roo) always secondary on the screen to McGregor. Naturally, Christopher is pulled back into Hundred Acre Wood where his priorities are straightened out. He relearns Pooh's wise advice that "doing nothing often leads to the very best something" — a message that proves surprisingly relevant to the midcentury workplace policies of Christopher's luggage company, even if Pooh mishears his job as "a fish-in-the-sea manager."
It all fits together a little too well, too predictably and, well, too Disney. Pooh and company have always been a wonderfully neurotic bunch, but in Forster's polished film, they're a little suffocated, a little lifeless. Any semblance of authentic childlike glee remains purely theoretical. It's surely not a good sign when Eeyore is the one stealing the show. Watching "Christopher Robin," I couldn't help feeling a bit like Tigger when he arrives in London and wonders: "How come nobody's bouncin'?"
"Christopher Robin," a Walt Disney Co. release, is rated PG by the Motion Picture Association of America for "some action." Running time: 104 minutes. Two and a half stars out of four.
Story: Jake Coyle