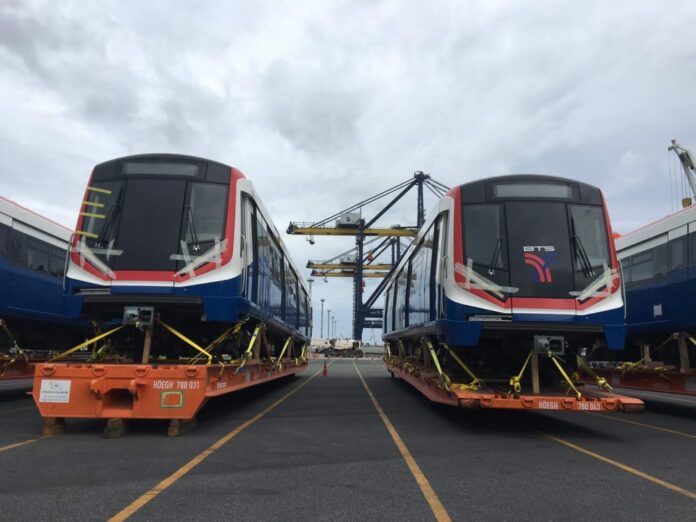 BANGKOK — The BTS system may soon get slightly less crowded as dozens of new trains with more capacity set to enter service later this year.
BTS Skytrain executives on Monday officially unveiled the first of 46 new trains in Chonburi province, purchased for 11 billion baht to support the Sukhumvit line and its extension to Samut Prakan province, which will open in December. The train, comprising four carriages, was delivered Sunday.
Company representatives said the new trains' carriages, bought from German and Chinese companies, have a 10 percent greater capacity than current ones. All new trains will be delivered by late 2019.
The popular city rail network currently serves about 900,000 daily commuters. Surapong Laoha-Unya, the company's director, said in 2017 that 52 trains were in service along both lines. Its official website says each train accommodates up to 1,490 passengers.
The operator faces mounting pressure to improve its services after it malfunctioned repeatedly in recent months, suffering signalling system disruptions, defective doors and water leakages inside carriages. It broke down as many as 20 times in June alone.
Related stories:
BTS Apologizes For Open Door on Moving Train
Is BTS Broken? Find Out on Crowdsourced Info Page
Broken Again, BTS Told to Compensate Commuters