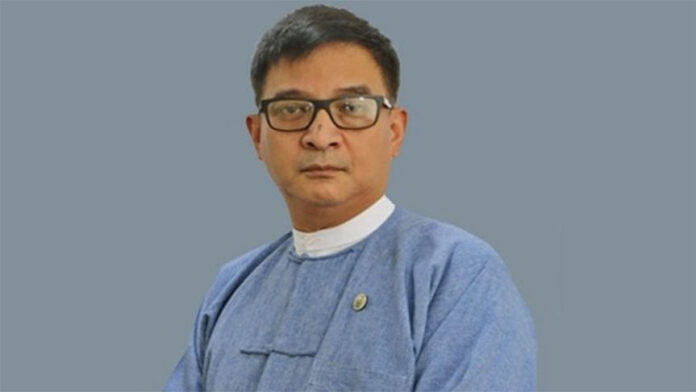 BANGKOK (AP) — A veteran corporate lawyer has been shot dead in Myanmar's biggest city by self-proclaimed urban guerrillas, highlighting the bloody struggle between the military government and its foes in the country's cities as well as the remote countryside.
Min Tayza Nyunt Tin was shot multiple times while driving his car in Yangon on Friday, according to a business colleague, media reports and a statement from the guerrilla group.
The group, calling itself Urban Owls, accused him of being a business associate of the country's military leaders who seized power two years ago, and claimed he helped them launder money in order to buy real estate and business assets abroad in deals totaling hundreds of millions of dollars.
Its claims could not be independently verified, and a colleague of Min Tayza denied the guerrillas' allegations. The victim was the founder and CEO of BIZ Law Consult Myanmar, a law firm specializing in intellectual property and trademark law.
Media outlets sympathetic to the military reported on the Telegram messaging app that the 56-year-old was shot by members of the People's Defense Force.
It's a loosely organized armed wing of the pro-democracy National Unity Government, which opposes the military government that was established when the army seized power in February 2021 from the elected government of Aung San Suu Kyi. Many of the opposition forces operate autonomously of the National Unity Government.
The army takeover triggered widespread peaceful protests that were quashed with lethal force, triggering armed resistance that U.N. experts now characterize as civil war.
Urban guerrillas have carried out targeted killings, arson and small bombings since 2021. Victims included officials and members of the military as well as people believed to be informers or military collaborators. In November 2021, a former navy officer who was the chief finance officer of Myanmar's military-linked telecommunications company was fatally shot on a Yangon street.
The army has clamped down harshly on opponents in the cities, arresting thousands and using deadly force even against nonviolent demonstrators. According to a detailed list by the Assistance Association for Political Prisoners, a rights monitoring organization, at least 3,160 civilians have been killed by security forces since the army seized power.
The statement issued by the Urban Owls guerrillas cited what it claimed were social media postings by Min Tayza, including one that expressed gratitude to former air force commander Myat Hein for helping him make his fortune.
The guerrillas' statement also claimed Min Tayza "has publicly announced on Facebook that he shall 'only provide services to reliable friends and supporters of the military' shortly after the 2021 coup took place."
The citations could not be verified, because the Facebook account where the comments allegedly were posted is marked as a private one.
The guerrillas' statement said the shooting is "yet another warning to all business tycoons and associates" of the country's military.
"We are among many guerrilla groups in Yangon who are aware of your money laundering schemes and blood money deals, and shall spare no one standing against the Spring Revolution of Myanmar," it said.
A member of BIZ Law Consult Myanmar company confirmed Min Tayza's death to The Associated Press on Friday night but denied the allegation of his military links. The person spoke on condition of anonymity for fear of arrest by the military and attacks by urban guerrillas.
"I want to say that none of the allegations are correct. We only give services for intellectual property for business firms. We are not associated with them (the military)," the person said.
The firm's Facebook page also promotes opening bank accounts, buying property and getting retirement visas in neighboring Thailand, where the company has an office. Well-to-do Myanmar residents, not just supporters of the military, have sought to transfer assets to Thailand, which they consider a safe haven.
Myanmar's economy has been in shambles due to civil disobedience, mismanagement by the military and economic sanctions imposed by Western nations as a consequence of the army's seizure of power and human rights abuses.
On Friday, the U.S. government announced a new set of sanctions against two individuals and six companies meant to stem the supply of jet fuel to Myanmar. Activists say blocking the supply of jet fuel can hinder Myanmar's military from carrying out air strikes in the countryside, which often cause civilian casualties.