WASHINGTON (AP) — President Joe Biden has formally announced he's seeking reelection. But he's also still the president, with roughly 20 months left in his term regardless of whether he wins a second one on Election Day 2024.
With Tuesday's campaign video release, Biden is following through on months of saying he intended to seek reelection. Top Democrats have remained solidly unified behind the president, despite his low approval ratings and many Americans saying they'd rather not see the 80-year-old Biden try for four more years in the White House.
But all that has meant Biden faced relatively little pressure to make his 2024 bid official. Here's a look at why he announced now and how things will, and won't, change for him going forward:
___
WHY NOW?
A formal reelection announcement means the president is now allowed to raise money directly for his campaign. It's a change from his speeches at donor events benefiting the Democratic National Committee or other outside political groups that he has given since entering the White House.
Biden will spend campaign funds on salaries and logistics building out a 2024 staff and holding events outside his official presidential business. He plans to have dinner in Washington on Friday with leading Democratic donors and DNC leaders, paying special attention to those who write big checks to ensure his reelection campaign stays well funded.
Some party donors and organizers had begun grumbling about a lack of movement on the reelection front, and the announcement, followed by Friday's gathering, will allow the president to reassure them.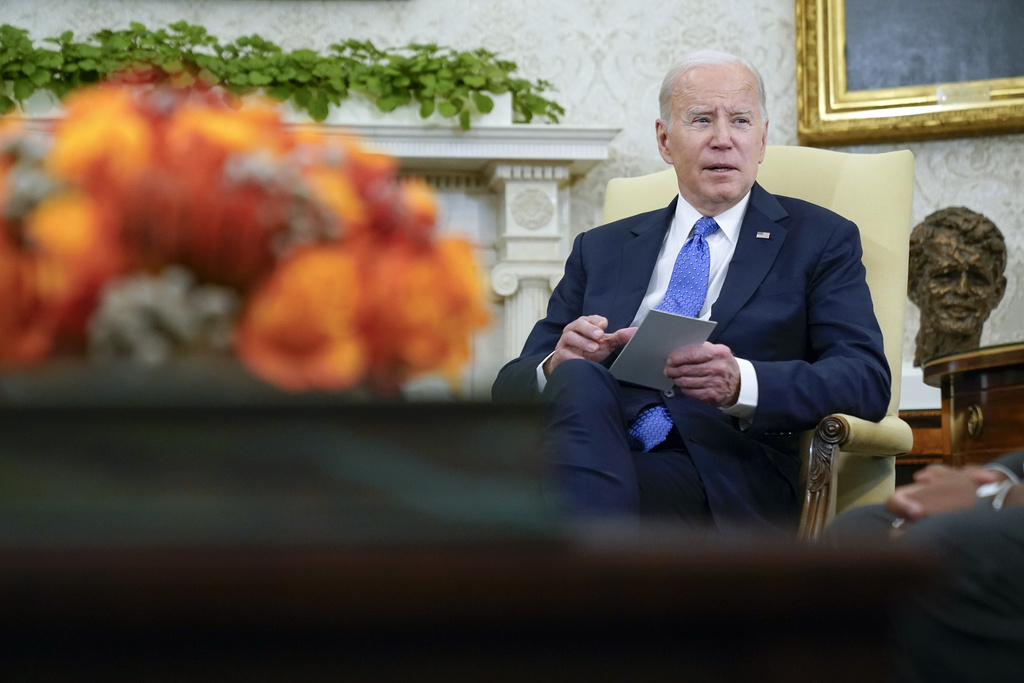 Another reason why Biden waited until April was that it allowed him to avoid releasing publicly how much his reelection campaign raised during the year's first quarter. That's when donors typically slow down their contributions — and some top Democratic givers wanted a break after a busy election season during last fall's midterms and before next year's presidential race kicks into high gear.
President Barack Obama waited to announce his 2012 reelection bid until early April of the previous year. Tuesday also marks the fourth anniversary of Biden's announcement of his 2020 presidential campaign.
President Donald Trump, meanwhile, first filed for reelection on Jan. 20, 2017, the day of his inauguration, and held his first campaign rally in February 2017. But his second White House campaign didn't formally kick off until June 2019 with an Orlando, Florida, rally that fell roughly four years after he first entered the 2016 presidential race.
___
WHAT ABOUT HIS AGE?
Biden is the oldest president in U.S. history and would be 86 by the end of a second term. He has acknowledged that age is a "legitimate" concern but scoffed at questions about whether he will have the stamina for another campaign, much less four more years in the White House. "Watch me," he has repeatedly declared.
Voters will now get the chance to do just that — but that is unlikely to make such questions go away.
Republicans have often highlighted Biden's age, and even some Democrats have questioned whether the president is living up to promises he made during the 2020 campaign to be a "bridge" to a new generation of leadership.
One Republican running for president, former U.N. Ambassador Nikki Haley, has called for mental competency testing for candidates over 75 — a category that would include both Biden and Trump, who announced his own 2024 campaign in November. White House press secretary Karine Jean-Pierre brushed aside such testing, noting that Biden helped lead Democrats to a surprisingly strong midterm showing.
"Maybe they're forgetting the wins the president got over the past few years, but I'm happy to remind them anytime," Jean-Pierre said in February.
___
WILL SEEKING REELECTION CHANGE HOW BIDEN HANDLES BEING PRESIDENT?
There won't be big changes, Biden aides insist, at least for now.
The president is still hosting South Korean President Yoon Suk Yeol at the White House for a state dinner on Wednesday and planning overseas travel later this summer. As he has done in recent months, Biden also will continue to hit the road domestically to highlight legislation his administration helped push through Congress.
Biden has already visited many parts of the country, highlighting how a bipartisan public works package will help repair roads, highways, bridges, ports and train tunnels and how increased federal spending approved as part of other legislation will bolster U.S. manufacturing, lower prescription drug prices and improve broadband internet access in rural areas.
Such events often blur the line between official business and promoting the president and his party politically, and the distinction will only get murkier going forward.
Since the weeks leading up to the midterms, Biden has frequently denounced "extreme" Republicans loyal to Trump's "Make America Great Again" movement as posing a threat to America's core democracy. It's a message he will continue to champion as the 2024 race begins heating up.
___
WILL BIDEN HAVE TO COMPETE FOR THE DEMOCRATIC NOMINATION?
Probably not much.
Self-help author Marianne Williamson and anti-vaccine activist Robert F. Kennedy Jr. are the only Democrats to challenge the president. Neither of them presents the type of primary opposition that wounded previous incumbents, such as Sen. Ted Kennedy's campaign against President Jimmy Carter in 1980 or Pat Buchanan's run against President George H.W. Bush in 1992.
The DNC is so fully committed to Biden this year that it is not planning to schedule primary debates, sparing the president from sharing a stage with Williamson, Kennedy or any other potential challenger.
Also benefiting Biden is the fact that South Carolina's primary is set to replace Iowa's caucuses in leading off the Democratic primary voting next year. Biden revived his 2020 campaign after losing the first three contests with a resounding South Carolina primary victory, and he personally directed that the state go first in 2024 — solidifying his popularity among Democrats there. That may counterbalance Democrats' deep ambivalence to Biden elsewhere.
An Associated Press-NORC Center for Public Affairs Research poll last week found that only 26% of Americans — and only about half of Democrats — said they wanted to see Biden run again. But the poll found that 81% of Democrats said they would at least probably support the president in a general election.
___
WHO WILL BIDEN'S REPUBLICAN OPPONENT BE?
Trump is the 2024 Republican presidential field's early leader, setting up a potential general election rematch with Biden.
Although Trump announced his bid back in November, the rest of the 2024 Republican primary field has been slow to form around him. The only other declared GOP candidates in the race include Haley, former Arkansas Gov. Asa Hutchison, businessman Perry Johnson, "Woke, Inc." author Vivek Ramaswamy and radio host Larry Elder.
Florida Gov. Ron DeSantis is widely expected to be a leading Trump alternative but is in no hurry to announce his campaign. Also expected to join the race but not officially in yet are former Vice President Mike Pence and U.S. Sen. Tim Scott of South Carolina.
Biden's political team has for months been preparing to face Trump again. But even if an alternative like DeSantis wins the GOP nomination, Biden's aides argue, many of the same criticisms about adherence to MAGA extremism apply since so many top Republicans agree with Trump on key policy and social issues.
___
WILL WEISSERT reported from Washington