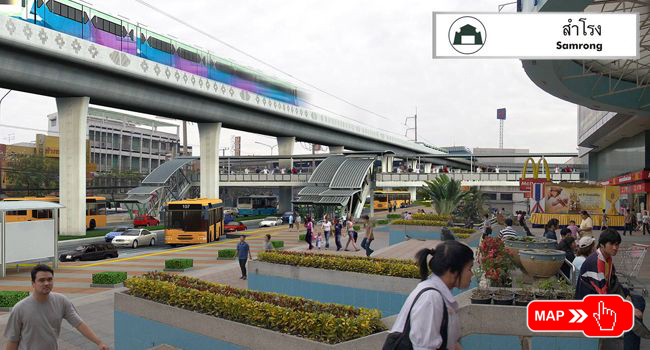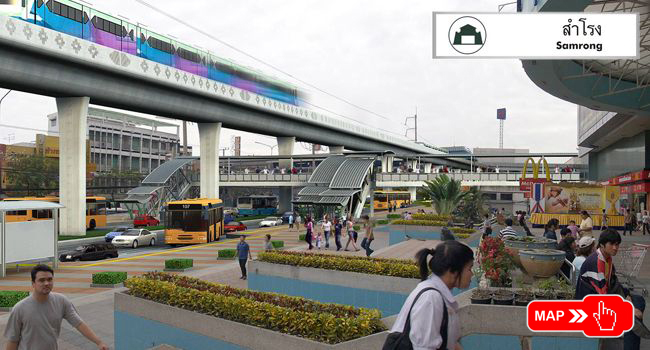 BANGKOK — After recently announcing it lacked the funds to launch a nearly completed extension to the BTS Sukhumvit Line, City Hall will go forward with a scaled-down plan: open just one station.
For the first time in five years, the Skytrain will soon push into Samut Prakan with the addition of one more station – BTS Samrong – which Bangkok Gov. Aswin Kwanmuang announced will open April 1.
Located at Soi Sukhumvit 80, the station is the first of nine stymied by a financial shortfall to extend the popular rail service 13 kilometers toward the Gulf of Thailand.
Read: Green Line Going Nowhere for at Least Two Years
Riding past BTS Bearing to Samrong will be free until 2018.
Construction is completed on the entire Green Line extension but for electrical and communications systems. However, City Hall said late last month it may not run for two years due to funding issues.
In that context comes the plan to turn on its first station. Test runs start in March, and fares will be waived until all nine stations are operational, Aswin said.
He hopes total system ridership will increase to a million per day once both the southern and northern portions of the Green Line extensions are in service.
After BTS Samrong the train will stop at Pu Chao Saming Prai, Erawan Museum, Navy Academy, Samut Prakan City Hall, Srinakarindra, Phrak Sa, Sai Luad and terminate at the Kheha Samut Prakan housing projects. The terminal will include a nearly 3 hectare parking lot that can hold 1,200 vehicles.