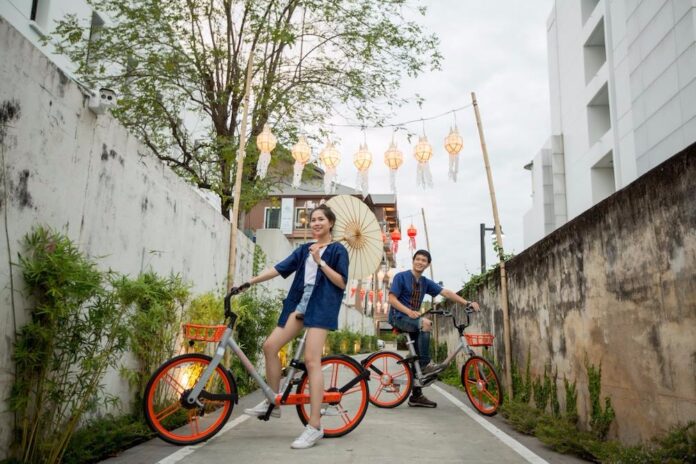 BANGKOK — A smart bikeshare soon to hit the streets of Bangkok was one way presented at a Wednesday conference to improve the quality of the capital's air.
Beijing-based Mobike was unveiled as an alternative transport to motor vehicles during a conference at the United Nations, in an effort to curb mounting air pollution in Bangkok, which in recent weeks has left the capital gasping for air. The system is operated via a phone app.
The bikeshare, which has run pilot projects to test its products both in Bangkok and Chiang Mai since November, will also give commuters more transportation choices.
Sam Nathapong, Mobike's Thailand representative, said the free test runs at Kasetsart University in Chiang Mai city – where 3,000 aluminium-frame bicycle have been introduced on a free test-run basis – have been satisfactory and that a full introduction of the bicycle would be made available soon in Bangkok and Chiang Mai.
"It's an alternative transportation. Say, you can use it for one to two kilometers into Soi Thonglor compared to flagging down a taxi and face traffic jam," Sam said, adding that the Mobike should be particularly popular for those riding it from a train station to nearby condominium.
He refused to pin down the exact timeframe but said the company is negotiating with the Bangkok Metropolitan Administration for detailed parking space and regulations.
The project partners with the World Health Organization and United Nations Human Settlement among others. Countries such as Singapore, Australia and Malaysia have already fully deployed the service.
Sam said challenges facing the Thai market will include prompting users to download the app, finding the closest bike, and unlocking the bike by scanning the QR code. Sam said some in Chiang Mai had ended up parking bikes at home while others were unaware of what a public smartbike is.
Parking and locking the Mobike can be done at any public parking space through the mobile application.
Sam said Mobike Thailand is working on a payment mode and that it would be compatible with credit cards.
The Thai representative said that the company will help reduce the use of cars.