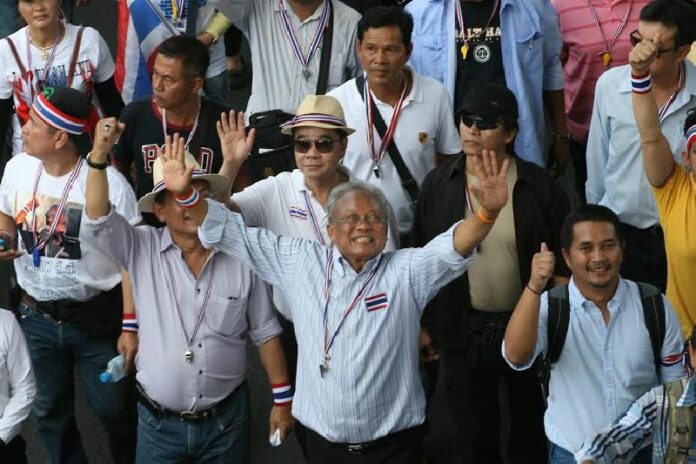 (9 December) Weeks into their campaign to unseat the government, the aims and demands of the anti-government protesters remain unclear.
After weeks of intense street campaign organised by People′s Committee for Absolute Democracy With the King as Head of State (PCAD), which saw the occupation of several governmental offices and violent clashes, Prime Minister Yingluck Shinawatra was finally forced to announce her intention to dissolve the House and call new election earlier this morning.
But if Ms. Yingluck and her advisers had hoped the move would satisfy PCAD leaders, they were proven wrong. PCAD secrety-general and former Democrat MP, Suthep Thaugsuban, simply refused to call off the protests and continued to march on Government House.
He later told the crowd the victory is not secure yet, and that he will not stop the fights until "Thaksin Regime" is completely uprooted and an unelected ?People′s Council? established to rule the country. Mr. Suthep also insisted that Ms. Yingluck cannot stay even as a caretaker Prime Minister.
However, his demand for ?People′s Council? has been ruled out repeatedly by Pheu Thai leadership, including Ms. Yingluck herself, on the ground that no provision in the Constitution allows such body to be formed. Likewise, the Constitution also clearly stated that the current Prime Minister must retain his or her position until the next election.
Furthermore, Mr. Suthep had never explained the concept of his ?People′s Council? in great details. He had vaguely described it as a body with representatives from various occupations. Earlier tonight, Mr. Suthep said the ?People′s Council? would be a part of an even bigger Prachapiwat (People′s Glorious Revolution) – yet another term that he did not elaborate.
His hope, therefore, appears to rest on the activation of Article 7 of the 2007 Constitution which, in his interpretation, would allow His Majesty the King to replace Ms. Yingluck with a Prime Minister of his own discretion.
But Mr. Suthep′s interpretation of Article 7 has been widely condemned by academics and legal experts as an undemocratic means which would allow His Majesty the King – technically a Constitutional Monarch – to directly intervene as Absolute Monarchs in the obsolete past had done.
Mr. Suthep is also thought to be working at his hardest to convince outside forces, such as the military, the judiciary, and the palace – which are understood by many anti-government activists to be hostile to Ms. Yingluck′s faction – to back his campaign and oust Ms. Yingluck in some way.
However, many observers of Thai politics are afraid that should Ms. Yingluck′s government fall under pressure or any sort of ?coup d?etat?, the Redshirts would initiate their own campaign to retaliate Ms. Yingluck′s ousters, and Thailand might enter yet another cycle of violence that could be more devastating than 2010 unrest.
The hope that the next election, set to be the date of 2 February 2014, would help solve the crisis also remains slim, as the opposition party signals that it might boycott the election – just as it did to protest Ms. Yingluck′s brother former Prime Minister Thaksin Shinawatra in 2006.
"Our members have not yet discussed what to do in the next election. We are not going to propose another condition to the country. We do not reject the future election, if it is the best possible solution," said Mr, Chavanond Intarakomalyasut, Spokesman of the Democrat Party.
He added, "It is not the time to discuss about the election yet".
For comments, or corrections to this article please contact: [email protected]
You can also find Khaosod English on Twitter and Facebook
http://twitter.com/KhaosodEnglish
http://www.facebook.com/KhaosodEnglish