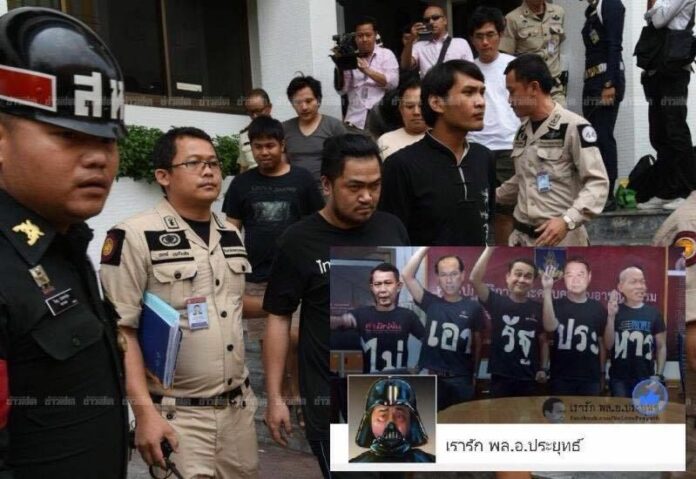 By Pravit Rojanaphruk
Senior Staff Writer
Warning: Facebooking may be detrimental to your freedom if you use it to oppose or lampoon dictator Gen. Prayuth Chan-ocha.
The sedition charges filed against the so-called "Facebook 8" last week, plus lese majeste charges for two of the eight, and the claims by some detainees the regime independently accessed their message boxes on the social network have spread a deep chill through those opposing the regime in virtual reality.
While the junta has so far succeeded in maintaining the appearance there is little to no opposition to its rule in the streets, it has utterly failed to extinguish angry resistance and condemnation on the internet, particularly on Facebook and Twitter.
The latest abductions and charges slapped against the Facebook eight and the twice refusal of the court to grant them bail is usher the dawn of crackdown.
The May 2014 coup makers are the first in the kingdom to be facing online political resistance. According to social marketing site tumzchanin.com, there are 35 million Facebook users in Thailand as of 2015, a staggering 53 percent of the nearly 70 million population. Thailand has the world's ninth largest Facebook population, a number which continues to grow as access to Wi-Fi and smartphones does.
Nearly two years ago, I reminded a colonel who "took care" of me when I was first detained without charge in the immediate aftermath of the May 2014 coup for "attitude adjustment" that they could never have prepared themselves for online resistance. This is because when the previous coup occurred in 2006, social media in Thailand was still in its embryonic state. At the end of junta's seven-day detention without charge, I gained 6,000 new Twitter followers to my account @PravitR without typing a single tweet because I was prevented from doing so while being detained.
Today, both Facebook and Twitter remain, despite the latest crackdown, politically vibrant. The social mediasphere is the freest public space in the kingdom, even when talking about the royal defamation law and the latest blocking by Facebook of content deemed lese majeste by the military government.
Expressing oneself on Facebook and Twitter has become almost a fundamental right to millions of Thais, particularly the younger generations. Such expressions are not limited to commenting out loud about food, friends, fashion and love, but politics as well. In fact, the junta's ban on political gatherings of five or more people has migrated more politicized Thais onto social media.
Short of shutting down Facebook and Twitter in Thailand, it's hard to imagine how even the arrests of more netizens will succeed in stopping the majority of the junta-opponents from continuing to use social media to make fun of and denounce the dictator.
While the Facebook 8 are still behind bars, many netizens continued to challenge the junta and crack jokes openly on virtual reality, both inside Thailand and outside.
"Between the [junta] prying open your Facebook message box and your wife gaining access, which do you think is more dangerous?" wrote anti-junta activist Sombat Boonngam-anong in a status update earlier this week.
From Paris, exiled dissident historian Somsak Jeamteerasakul mocked the junta in a April 30 Facebook status, stating it need not bother trying to find out his Facebook password because he would give it away for all to see: "Prayut.Chan-o-cha.is.the.Most.Stupid.PM.in.Thai.History" was the code. The post attracted 7,900 Likes as of today.
A popular, anonymously run Facebook page Stop Pretending Thailand (หยุดดัดจริตประเทศไทย) which has 573,000 likes is still operating. Its admin has previously claimed the team can't be arrested because they are abroad.
A number of Thai Facebook users are in fear and have stated so clearly. Some pro-democracy Thai Facebook users posted on Facebook on Friday that they would stop using Facebook for fear their privacy and security are being compromised. It's time Mark Zuckerburg shed light on the matter. At the same time, it's myopic and self-defeating to abandon Thailand's biggest online public sphere out of regime fear.
People should instead stop making unsubstantiated allegations against the junta leader or the monarchy and continue to safeguard Facebook as one of the few remaining public spheres in Juntaland.
However, short of shutting down Facebook and Twitter in Thailand, or dragging tens of thousands of netizens to prison, this "war" waged by the junta is one they only win through fear.
It's most likely unwinnable for them because there are just too many netizens to lock up. Imagine the junta keeping not just eight or nine netizens behind bars, but 5,000. How long would it remain in power then?
Suppressing people from expressing critical political opinion is tantamount to forcing them to surrender their humanity.
Sending more critical netizens to prison will also create a feedback loop as more and more protesters hit the streets in protest, as we've begun to see in just the past fortnight.
Follow Khaosod English on Facebook and Twitter for news, politics and more from Thailand. To reach Khaosod English about this article or another matter, please contact us by e-mail at [email protected].