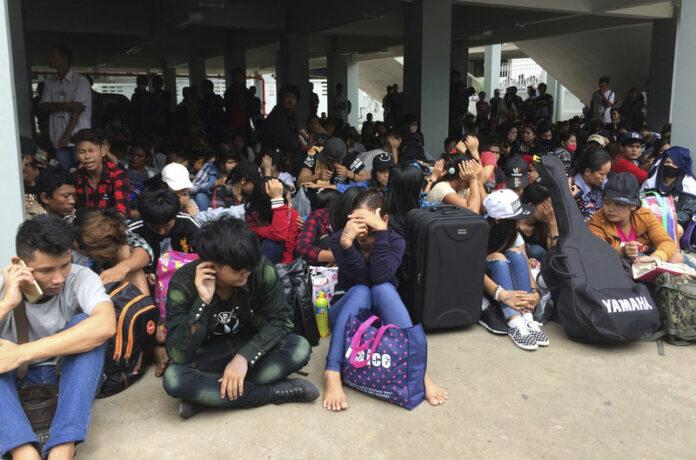 It was chaos, confusion and pain for millions of migrant workers from neighboring countries,  chiefly Myanmar, after much harsher penalties under the new Decree on Managing the Work of Aliens – passed by the junta-appointed rubber-stamp parliament – came to effect on June 23 with fines ranging 400,000 to 800,000 bahts.
Only after the exodus of tens of thousands of illegal migrant workers who feared severe prosecution and fines, (and reports of extortion against fleeing workers by corrupt Thai officials), began disrupting businesses such as fisheries in the south and construction projects in big cities, did the military regime backtrack.
Junta leader Gen. Prayuth Chan-ocha, the man who appointed members of his rubber stamp parliament exercised his absolute dictatorial power under Article 44 of the now-defunct 2014 charter to suspend key articles of the Migrant Labor Act. In effect he froze any prosecution that led to the exodus in the first place until the end of this year.
Damage has been done to the economy, however, as employers have difficulties finding new workers to replace those who fled. This is a classic autocratic shortfall as voices of dissent are hardly heard by the junta and the junta-appointed rubber stamp parliament filled with sycophants.
This turnaround looks as if it was done more out of concerns for the businesses affected and the economy than out of empathy for the migrant laborers from neighboring Myanmar, Cambodia and Laos, however.
For the past two decades, migrant workers from these country have been made invisible, voiceless and with little or no rights and integration.
On Wednesday, for example, Fortify Rights, an American human rights group with an office in Bangkok, issued a statement calling for a large factory to end its criminal complaints against 14 migrant workers from Myanmar who dared to accuse their employers – a Thai-owned poultry farm in Lopburi province Thammakaset Co. Ltd. – of paying workers less-than-minimum wages, failing to pay overtime wages, and confiscating their identity papers, including passports.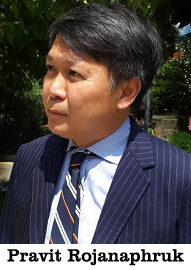 In response, the company accused the workers who complained to the National Human Rights Commission of Thailand in July last year of giving false information to officials "likely to cause injury of any person or the public" and "impair" the reputation of the plaintiff. Such a crime is punishable under Articles 137 and 326 of the penal code with a combined sentences of up to one year and six months in prison and a fine of up to 30,000 bahts or both.
Since migrant workers in Thailand have no rights to form a union by themselves and life is obviously difficult in a foreign land, one must wonder why these 14 workers would want to make a false claim at all.
Amy Smith, executive director of Fortify Rights, had this to say in the Wednesday statement.
"Migrant workers have a right to be protected in the workplace and should be able to speak out when these rights are not protected. Defamation should never be criminalized…" she said.
As if the struggle for labor rights was not hard enough for poorly-paid migrant workers from neighboring countries – particularly Myanmar – they also face xenophobia from some columnists on big Thai tabloids. Thai Rath columnist Kampanyok wrote on June 6 under the column named "Mudlek," which translates to iron fist, portraying an imagined scenario involving the estimated 3 million migrant workers in Thailand from Myanmar.
"Just casually think with dark humor that if one day, Thailand would have to wage war with Myanmar, we may be easily taken hostages by these Burmese labors that infiltrate the houses of top soldiers, police, and ministers."
That's the mentality of some. The columnist said Thailand has been too welcoming to these workers already by shouldering the costs of their medical care and their children's school education.
That's one way of looking at it. My way of seeing is that these migrant workers have contributed greatly to the growth of the Thai economy, and not just in the industrial sector but the service sector, including working as waiters and waitresses, domestic helpers, and even – like it or not – sex workers.
Yet in the parlance of daily Thai usage, people often refer to them as raeng ngarn tarng daow or alien workers, while those from the West or even Japan, China and Korea are basically expats and never referred to as "alien workers" in daily conversation. This despite the fact that the official terminology refers to all foreign workers residing in Thailand as alien workers.
I say ditch the word alien in Thai in daily conversation and refer to them as migrant workers or workers from neighboring countries instead. It is more dignified. The official terminology will still be there for now but we can start by changing the way we converse in our daily life about these estimated three-million workers.
It's not just the state and private sector that pose a challenge to a more humane and empathetic embracement of migrant workers but also some of those many well-educated and not-so-well-educated Thais who otherwise believe they are good and generous people unique in this world.
I end by quoting a migrant worker cited by the Mekong Migration Network, a regional NGOs working on the issue in the region based in Chiang Mai and Hong Kong. The network cited Ei Dhan Dar, 28, from Myanmar in an article in May this year. She has been working in Thailand for 12 years but complains about the rise in work permit registration fees – which now cost her 10,000 bahts, while she only earns a wage of 300 bahts per day.
"As I've lived in this country for a long time, I now feel that I have a bond with Thailand and always hope that one day I can live comfortably in this country, but now I am not sure about this dream."