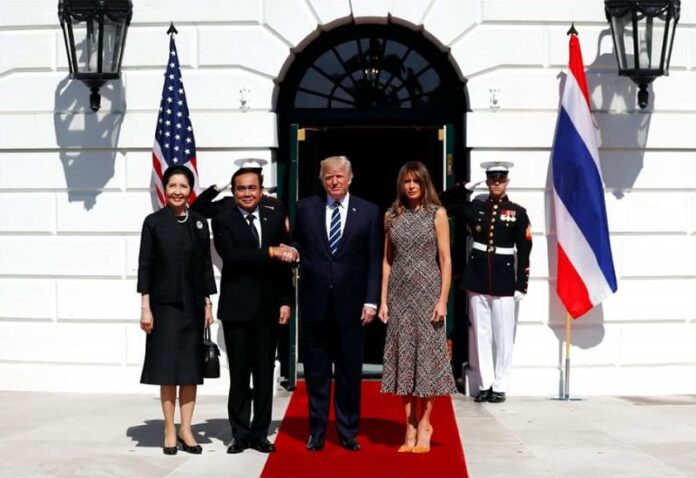 Like him or loath him, pictures of junta leader Gen. Prayuth Chan-ocha groundbreaking official visit to the White House earlier this week have been obsessively scrutinized by some Thais.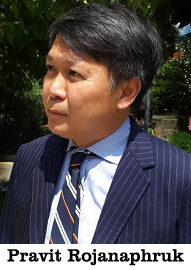 On Tuesday, when I posted a picture of Prayuth, who also made himself Prime Minister three years ago after the 2014 coup, standing next to US President Donald Trump along with their respective wife, an old colleague asked me about the photo.
"Why don't Thai PM and his wife stand on the red carpet?" wrote Supalak Ganjanakhundee, regional news editor at my former employer, following my Facebook post.
Distracted, I ventured to guess and reply to Supalak, who is one of the best journalists in Thailand in his field, not some naïve greenhorn to foreign relations.
"You know who's the big man of the world, Supalak Ganjanakhundee. The dictator from a small nation knows his station in life," was my reply.
When I re-posted the picture, Supalak's questions and my answer on Twitter, they were greeted by junta apologists who pointed out that other foreign leaders were also left to stand outside the red carpet firmly occupied by Trump and first lady Melania. Then someone posted a picture of Israeli leader Benjamin Netanyahu having managed to put one of his legs on the red carpet standing slightly in front of Trump in a similar photo op.
Perhaps it's more of a commentary on Trump's ego and manners than on Prayuth's.
The question also distracted me from my original train of thought, wherein I posted the following message in Thai and English to my Facebook friends and followers as a caption accompanying the photo.
"Let the photo teaches young Thais who had no benefit of direct experience during the Cold War that the United States is willing to overlook human rights and democracy and invites junta leader Prayuth to the White House when it suits them," I wrote.
That was not the end of the scrutiny of the photos, however. If a picture is truly worth a thousand words, as they say, a picture must also be worth a thousand different interpretations.
Another case in point is a photo of Prayuth at the Oval Office looking down and sloppily extending his right hand for Trump to firmly grab while avoiding the US president's intent gaze.
"Evading the eyes of the other side, just from this we can say who will be at a disadvantage for this trip," commented Facebook user Tony SupTar under a photo he posted.
Was Prayuth unable to be a proud guest because he knew deep down that he was never elected and seized his way into power with guns and tanks, many of them US-made? Or is this just a mere one split second moment captured by the photographer's high shutter speed and cannot represent the reality that the dictator was in fact beaming with pride and happiness in other photos?
Emblematic of the level of political hatred reaching barometric heights over the past few years, Redshirt activist Anurak Jeantawanich even abusively and inhumanely posted the picture on Facebook, along with three other photos of three differing dogs giving their paws for their masters to hold which resembled that of Prayuth giving his hand to Trump.
Another classic photo was dictator Prayuth staring up pensively at a standing statue of Abraham Lincoln inside the Capitol Hill's upper rotunda. Wonder what kind of thought went through Prayuth's mind.
Perhaps "Aye, I shall return as an elected PM to DC after the ever-elastic roadmap is finally, really, really finally completed."
The last photo that caught my attention was that of US Ambassador Glyn Davies sitting two seats away from Trump, only separated by State Secretary Rex Tillerson, while Prayuth and his men were seated on the other side of a long table for bilateral negations. Davies looks rather uneasy in the photo published by local papers. But that's just my interpretation.
Was this the zenith or nadir of Davies' diplomatic career? Was Davies very proud or disappointed that he had facilitated a meeting between a dictator and his commander in chief?
Amb. Davies used to be publicly very vocal about the suppression of rights and liberties after the May 2014 coup in Bangkok. His remarks attracted strong resentment among junta supporters and haters of the Shinawatras. Now it sounds more mellow than a double-mellowed Tennessee whiskey.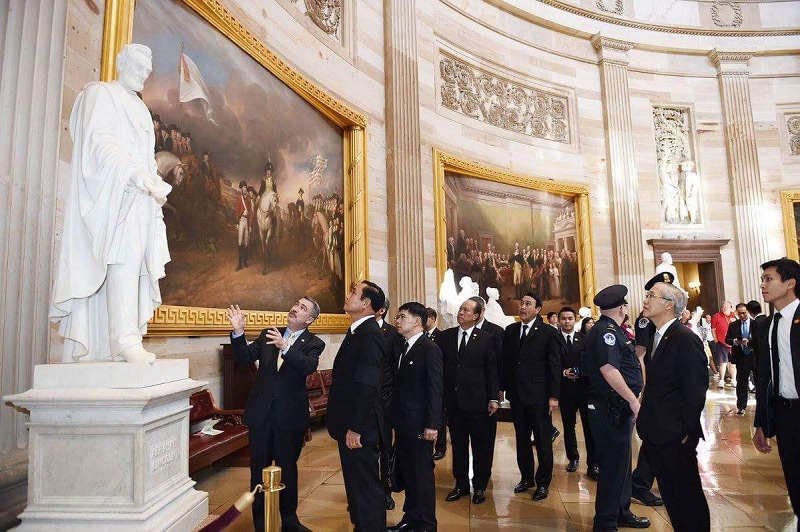 I wish Ambassador Davies and his future successors all the best, for his tasks of restoring confidence among democracy-loving Thais that America supports democracy and human rights around the world, are harder than climbing Mount Everest. A new generation of Thais have seen before their eyes how the United States ditches human rights and democracy before their very eyes. This despite the US embassy sending its second secretary, Andy Armstrong to observe the sedition charges made against me last month, for which I am grateful.
"I have no false expectation [on the United States' foreign policy]," a well-known figure in the human rights community in Bangkok told me on Thursday what she recently conveyed to the US State Department.
I don't know if Davies will proudly frame the picture of him sitting on that long table and place it somewhere on the upper floor of his genteel ambassador's residence on Wireless Road or not. Or if he will only put it out when welcoming mid and senior ranking soldiers who helped Prayuth seized power by force, only to quickly put it back somewhere inside a drawer after the party is over?
I will let you know if I spot it, but only if I continue to receive invitations to the ambassador's residence.