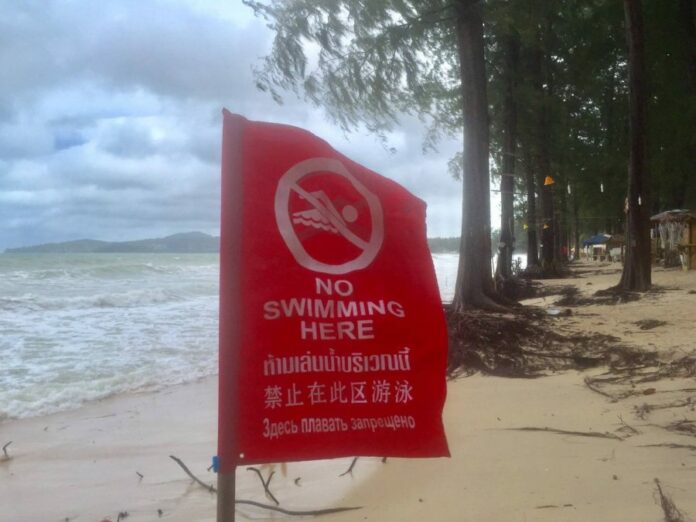 PHUKET — A Chinese tourist drowned at the beach of Karon on Phuket island while there was no lifeguard on duty, local police said Saturday.
The tourist, whom police did not identify by name, died Thursday afternoon, according to Cpl. Anusorn Jaikhaeng of Karon Police Station. He added that lifeguards were not at the scene because of a recent contract dispute between the city hall and the operators.
"There was no guard. There was no redflag. There was no whistle," Anusorn said by phone. "No one was there to tell tourists where not to swim."
Lifeguards are currently not operating in Phuket, a tourist destination known for its beaches, because the operators would not accept a new contract with a slashed budget proposed by provincial authorities this year. Guards said their budget has been gradually cut for years and would not be sufficient for a reliable service.
As they could not settle the issue, all operations of the Phuket Lifeguard Service were terminated on Sep. 30 after they oversaw safety over the island's beaches for nearly a decade.
The president of the association said the tourist's death could have been saved if his teams would have been in position.
"If we were there, he wouldn't have died," Utane Singsom said by phone.
Cpl. Anusorn said since the lifeguard contract was terminated, the provincial police command asked each police station to send off-duty officers to patrol the beaches in lieu of actual rescue workers.
Anusorn said such policy may not help much. Beaches in Phuket, such as the one at Karon, are long, and the guards have knowledge about dangerous swimming spots.
"In the past, the guards would know where the water is deep and where the current is strong," the policeman said. "I don't know why they don't hire the guards anymore."