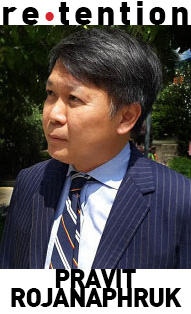 Like it or not, the European Union has decided to resume full relations with Juntaland, three and a half years after cutting them off.
Officially, factors such as the roadmap to restoring democracy, a new junta-sponsored constitution and the end of trying future civilian cases in military courts have been cited to support the political detente. Unofficially, over the past two weeks, I've heard two, more detailed versions of the reasoning from senior diplomats with three EU member states in off-the-record conversations.
1: Trying a New Strategy
An ambassador of a key EU member state told me his country has pushed hard for the shift in EU's stance towards Thailand's military government. This is because over the past three years, any pressure applied against the junta has been mostly ineffective, so a new strategy was needed.
The ambassador assured me that from now on, every high-level contact with Thai counterparts would come with a reminder about human rights, democracy and the promised roadmap to returning power to the people. Junta leader Gen. Prayuth Chan-ocha, after all, has already made public that elections will take place in November.
From another main EU member state embassy, an army attache recently said he doesn't like the word "re-engagement." He said it's more like lifting  automatically downgrading relations. The army attache added that he has been telling his Thai military peers of the need to respect human rights and the roadmap and will continue to do so. He hopes the message will filter up to junta leadership, in one form or another.
2: Time for Defend Business Interests
A deputy head of the mission at a medium-sized EU member state told me European businesses have been pushing Brussels hard, asking how relations can be normal with more repressive countries such as Vietnam but not Thailand.
He added that China, and more recently the US, have been making economic inroads at the expense of the EU economic interests.
I get it: Vietnam is a one-party state and the press is basically all state-owned. I checked the latest report by the New York-based Committee to Protect Journalists, and Vietnam is currently detaining 10 reporters, making it the fifth worst jailer of journalists in the world, after Turkey (73), China (41), Egypt (20) and Eritrea (15).
On a personal note, even if I end up in prison due to sedition and computer crimes charges, I would still need to convince a few more journalists, and perhaps a political cartoonist or two to join me in behind bars to convince the world the situation is worse than Vietnam.
After listening to diplomat, a well-known English expat scholar who was part of the conversation expressed disappointment. I told the European diplomat that it's regrettable for the union to follow its rapprochement. What's more, I added, if the rest of the world becomes authoritarian, it would be hard to conceive how the EU remains democratic. No state – or group of nations – is an island, I reminded the thin senior diplomat who politely listened to me before we parted in search of more canape.
Thinking about it, I believe Thais must be primarily held responsible for its sorry state of affairs – not Europeans, the EU, or the United States.
I am hugely more disappointed by Thais who, while not junta supporters, live through one coup after another without taking any risks and doing little more than lamenting in private or anonymously on social media.
These people have unwittingly enabled the military regime to claim that they are accepted, that the country is normal and "peaceful" and handed the junta a veneer of legitimacy.
There are a number of diplomats, senior and junior, at embassies here in Bangkok that are EU members who are genuinely concerned about the continued repression here. Every time I meet them to discuss the state of Juntaland, I implore them to consider the long-term goodwill that could be accrued under these trying times if they are not too short-sighted and concerned about maximizing immediate economic and political gains.
Whatever they may think as an individual, they will have to follow the instructions of the day given by their respective governments, however.
Three and a half years ago, head of the EU mission Jesus Miguel Sanz told me at a lunch after I was released from the first military detention without charge, aka "attitude adjustment", that there's only so much the EU can do if Thais are passive.
Ambassador Sanz made it clear even back then that despite the coup, European businessmen want to do business as usual. He added that there's only so much the EU can do if Thais themselves don't take the major share of the burden in defending their own rights and democracy.
Sanz was right, many Thais have simply abandoned their basic civic duties to defend their own freedom and democracy and recent anti-junta protests could muster no more than 100 in defiance of the junta's ban on political gatherings of more than five people.